CHANDLER, Arizona –
Cool is a term oft used by all to describe countless aspects in life. From beverages to clothes, from injuries to storms, anything can be cool.
I submit that the definition of the word should refer, from this day forward, to one company only and their products. That company is Local Motors. You may have never heard of them, but let it be known that it may be the future of the car business today. This company is intent on redefining the automotive industry, even though they are the new kid on the block.
Local Motors' first born is the
Rally Fighter
. Unlike other makers that give their products names that are expected to strike fear or impress people, LM's Rally Fighter is no poser-mobile with a bruiser name. No, the Rally Fighter is the real deal and they don't come more badass or cooler than this.
What is it?
The Rally Fighter is a mix between a baja truck, a dune buggy and a sports car. This combination is what makes this car unique in the world and strangely enough, it works big time. The wide tires, massive ground clearance, low roofline, playful but all-business front end and funky decals clearly make it out to be a toy for adults.
It is the brainchild of Jay Rogers and of his online community that submitted countless designs. The outer shell was designed by Sangho Kim and uses a mix of classic sport coupe lines, including a long muscular hood, a rear-biased cabin and short overhangs.
If you look closely at the Rally Fighter I tested, you'll note the Miata door handles and the
Civic Coupe
taillights. How cool is it to think that should you damage the taillight on your custom LM Rally Fighter, all you'll need to do is go to your neighbourhood Honda dealer for the part?
Local Motors and its team of engineers put the Rally Fighter together with off-the-shelf parts that are easily accessible and, more importantly, serviceable almost anywhere. They are responsible for body panels, interior, and the fantastic tubular steel chassis and space frame. The diameter of the steel used is 1.75″ and wall thickness is of 0.120″. Incidentally, these specs meet
SCORE desert racing series
requirements, in the event that you find this type of info useful.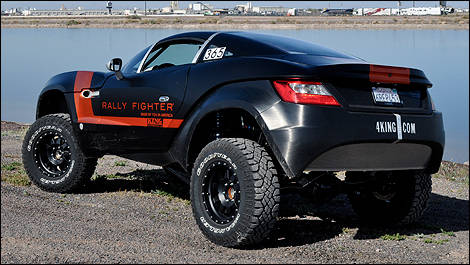 The Rally Fighter is a mix between a baja truck, a dune buggy and a sports car. (Photo: Mathieu St-Pierre)
What does it do?
The LM Rally Fighter is essentially the ultimate do-anything vehicle. Unless you live in the Yukon where mounds of snow are as common as Starbucks' shops are in the city, the Rally Fighter cannot and will not be slowed by anything.
The main trick up the RF's sleeve is its long–travel, coil-over Fox Racing Shocks suspension. Up front, the shock absorbers allow 18 inches of travel, also thanks in part to its detachable stabilizer bar. The rear four-link, solid axle setup permits 20 inches of travel.
I had never experienced a suspension like this one: weight transfers are evident, especially while braking and accelerating. It's as though the RF's body moves independently from the suspension, keeping the wheels and tires in constant contact with the ground. Certainly, every inch travelled by the huge LT285/70R17 Goodyear Wrangler rubbers felt well under control.
The power-assisted rack-and-pinion steering proved to be the most challenging aspect of the car's drive. We were told that the Rally Fighter left at our disposition was the test mule so not all of it was in 100% working order. At any speed above 40 mph (64 km/h), the wheel required constant corrections; a tenuous issue as the overall drive had me drooling for more.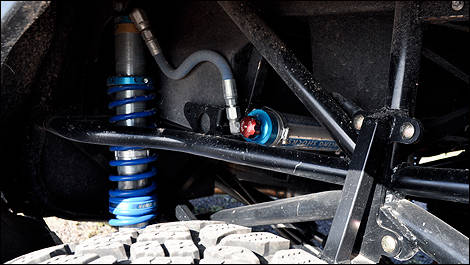 The main trick up the RF's sleeve is its long–travel, coil-over Fox Racing Shocks suspension. (Photo: Mathieu St-Pierre)
What's the motivation?
At roughly 4,000 lbs (or 1,800 kg) and designed to travel at absurd rates of speed in the desert, you'll have guessed that the RF is adequately powered. What better home-grown powerplant to shoehorn under the bonnet of the arguably coolest, low-volume American car than an LS3?
That's right; a Chevy Corvette 6.2L V8. Good for 430 hp and 424 lb-ft of torque. A 4-speed automatic transmission manages the power transfer to the Ford 9" rear axle.
Although torquey and powerful, what the V8 does best is roar. Throttle pressure does not result in immediate acceleration, but I figure that only serves as a warning for things to come when the going gets going.
The whole experience was surreal. The funky billet shifter has to be pushed down to slip it into gear. Once in drive, the best way to illustrate what takes place is to imagine driving an ATV, a snowmobile, a dirt bike and a Ford Raptor all at the same time. It's insane. The growl, the lift, it's an adrenaline rush. Massive 13.9" ventilated four-wheel discs manage stopping duties once the rush comes to an end.
Unfortunately, I was unable to take the beast off-road, but can scarcely imagine that I wouldn't sell everything I own, redundant organs and all, to drive the RF in the desert every day, for the rest of my life.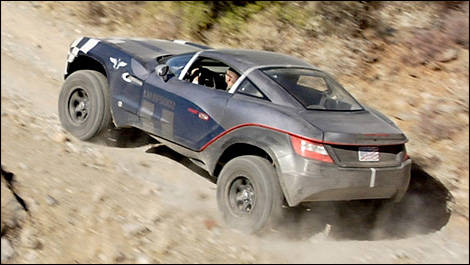 The whole experience was surreal. (Photo: Local Motors)
Cool in and out
The Rally Fighter is not only about brawn, balls and ballistics. There's a whole other side to it. Get this:
The cars are not painted as chemicals are very bad for the environment; they prefer lightweight vinyl skins. The community submits wrap ideas in order to help new owners make their Rally Fighter as unique as possible.
As you might expect, the car does not feature all the creature comforts one may be used to. If that's what you're looking for, as Jay Rogers says, check in to your local Lexus dealer. Cabins can be customized within the limits of the new dashboard with gauges, a navigation system and more.
Seating in the tester consisted essentially of sport seats which hold occupants well in place. The RF can be kitted out to be a 5-seater if desired, so this could actually be a family car...
Our tester's steering wheel is lifted from a Ford F-150 and although it works, it does not look the part. As I toured the facility (something everyone should do), they were test-fitting the new dash in a car equipped with a wholly sexier Momo Race wheel.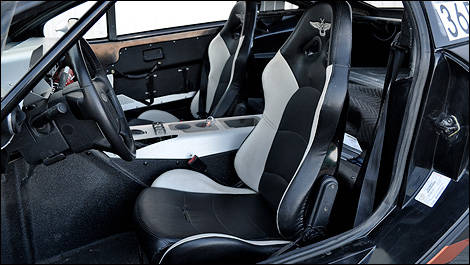 Seating in the tester consisted essentially of sport seats which hold occupants well in place. (Photo: Mathieu St-Pierre)
How much?
Before I answer that question, know that the RF is 50-state legal but unfortunately not street-legal in Canada, yet. What is the matter with us?
So far, LM has received 120 deposits for the Rally Fighter, 30 have been delivered and the run will be limited to 2,000 units.
The price tag is $74,900 US, which includes staying at a hotel, meals and tonnes of fun working on your own Rally Fighter before it hits the road, or dirt track, or both... I want one. Period.
Here are a few videos that Auto123.com has put together over the last few years on Local Motors and the Rally Fighter: