Mazda will offer a new Suna package available on several models in 2024.
The Mazda product family is not the largest in the industry. One way to fluff up interest and keep its products fresh, is to offer special editions or packages, and the Japanese automaker has not been shy to do company to do that.
The latest from Mazda is the line of new Suna editions just announced. The Suna models share certain styling elements with the Kuro editions already seen in the range. For example, Suna editions feature gloss-black exterior elements and metallic-black aluminum-alloy wheels, as well as side mirrors and a front grille in the same hue.
However, they stand out with an exclusive Zircon Sand metallic paint finish, as well as an interior that features a mix of materials and colours, such as Terracotta upholstery with black suede accents, combined with Terracotta stitching and dark bronze accents.
Let's just say it gives the models a different flavour that's sure to please some buyers.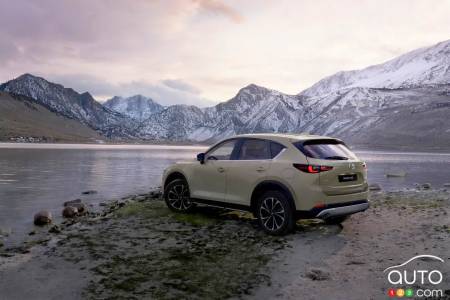 Which Mazda models will get the Suna package?
In Canada, Mazda will offer the Suna treatment with the 2024 Mazda3 Sport, MX-30, CX-30 and CX-5.
Mazda says the Suna philosophy is all about performance, and so the models offering the package (apart from the electric MX-30) are equipped with a 2.5L turbocharged 4-cylinder, an engine that delivers up to 256 hp and 320 lb-ft of torque (on 93-octane gasoline). Alternatively, with regular fuel, it delivers 227 hp and 310 lb-ft of torque. A 6-speed automatic transmission, a model of reliability, teams up with this powertrain.
Suna editions will be offered with 2024 versions of the above models. Pricing and other details will be announced at the same time as information for the 2024 models is released.