• Mercedes-Benz is recalling 320,000 SUVs.
• The recall affects 2012-2020 ML, GLE and GLE coupe models.
• Water leaking into the spare tire holder can eventually damage the fuel pump.
Mercedes-Benz is definitely not having the start to the year it wanted. The company is already on its second recall campaign. This time, 320,000 SUVs are affected.
The 2012-2020 vehicles are being recalled over a pretty specific issue. Due to a problem with the fuel pump control unit, that can happen due water accumulation in the spare tire space in the trunk, the engine could stall while the vehicle is in motion.
The recall affects 323,963 units of the ML and the latest-generation GLE, and GLE coupe. Mercedes estimates that the defect affects only 1 percent of the recalled SUVs. Nearly all variants of these models that have been part of the lineup (the ML became the GLE) over the past decade are affected by the recall, including the ML 63 AMG variant.
Browse cars for sale available near you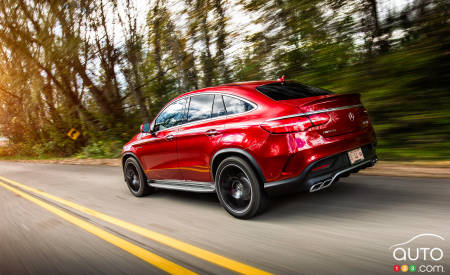 Mercedes explains that water can get into the trunk and make its way into the spare tire space. If enough water accumulates, it can reach the fuel pump control unit and cause it to shut down, turning off the engine without warning.
The company is asking owners of affected models to be aware of any wet mats inside the trunk. They can also check for water accumulation near the spare tire.
The solution is quite simple. Owners are asked to bring their vehicle in to have a technician inspect the spare tire area, and install a water drain plug and replace the fuel pump control unit if it has been damaged. These repairs will be done free of charge. Those who have already paid to have the problem corrected can request a refund from the manufacturer.
Mercedes will notify owners of affected SUVs by mail by February 21, 2023.