In 2016 rumours of a planned mid-engined sports car at Subaru were doing the rounds within the industry… and among the legions of Subaru fans around the globe. In the end, nothing ever came of them, of course, and in fact today we're more likely to see Hyundai drop its own mid-engined car before Subaru ever does.
That Hyundai project involves what many are calling a mid-engined Veloster. It imminent arrival may be what has revived rumours of a similar project over at Subaru.
A report in Japanese magazine Best Car indicates that the automaker's planned model has morphed into a hybrid-powered sports car. Few details are known at present, but it's likely the car would be powered by a turbocharged 4-cylinder flat engine working with an electric motor. Two powertrain options are under consideration: the two motors working conjointly to power the rear wheels, or placement of the electric motor on the front axle for a better distribution of power - and weight, we would imagine.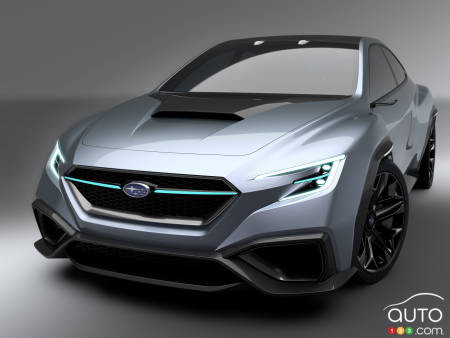 It's important to keep in mind that this project has not received the official go-ahead at Subaru. It is interesting, however, to take note and understand Subaru's approach in all this. First and foremost, the Japanese automaker needs to get a handle on how warm a reception a mid-engined Subaru sports car would get on the North American market, which is after all the brand's bread-and-butter market. If there's insufficient interest in the U.S., the Chinese, European and Japanese markets are not strong enough to justify bringing the project to fruition.
Meanwhile we're free to let our imaginations fly free as to what the model would actually look like. We could a take a cue from the Viziv Performance concept presented in 2017, but we wouldn't expect anything too similar to that prototype. The manufacturer has a long history of modifying and toning down its vehicles in the transition from concept to production model.
This is another one of those cases where patience is in order. But it could end up being one interesting car, especially for Subaru-loving Canadians!