Earlier today we reported that the 2019 BMW Z4 would not be getting a manual transmission as part of its product offering.
Here now are full details of what will be in the little roadster from the Munich-based automaker. The 2019 BMW Z4 sDrive30i is set to debut at Canadian dealerships in March 2019, while the 2020 BMW Z4 M40i Roadster will follow later in 2019.
Here's a photo gallery of the new 2019 BMW Z4.
BMW has focused primarily on reworking the Z4's body, powertrain and chassis in order to enhance performance capabilities and driving dynamics. The two-seat Z4 Roadster features two new TwinPower turbocharged engines and brand-new front and rear suspensions developed specifically for the model.
The look
The new BMW Z4 Roadster has a low-slung, sporty and athletic appearance, and is bigger all around compared with its predecessor – it's longer by 85 mm, wider by 75 mm and even taller, by 26 mm. At the same time the wheelbase is shorter by 26 mm. Weight distribution in the car is a perfect 50/50.
Notable style features include a long hood, a sculpted front end with large air intakes, a low, broad BMW kidney grille and headlights positioned at the outer edges. That new grille combines a honeycomb pattern with a three-dimensional structure, whose elements have a vertical arrangement. The 2019 Z4 is equipped with LED headlights as standard and adaptive LED headlights available as an option.
In the back, the trunk lid's integrated spoiler and the slender, horizontally arranged light assemblies in the BMW brand's customary L-shape help to give the tail of the new BMW Z4 Roadster a wide, road-hugging appearance.
There is a choice of eight colours for the exterior, including Frozen Grey for M Sport models. The interior choices include both SensaTec and Vernasca leather with a special Vernasca/Alcantara upholstery available for M Sport vehicles. The power soft-top roof comes in Black as standard and Anthracite with silver effect as an option, and it can be opened or closed in the space of ten seconds, at speeds up to 50 km/h.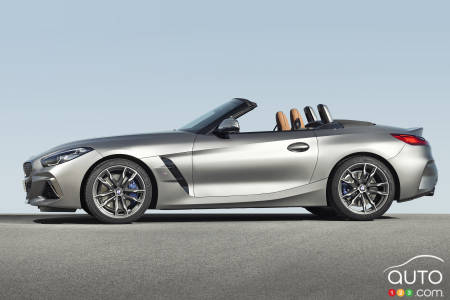 The powertrain
For 2019 the new BMW Z4 Roadster features a new, more powerful 2.0L 4-cylinder TwinPower turbocharged engine, which offers 15 more hp (for a total 255) and 35 lb-ft more torque than before (total: 295, available from 1,550 RPM). This setup helps give the 2019 Z4 a 0-100 km/h acceleration time of 5.3 seconds.
The 2020 Z4 M40i version, when it does appear, will get a 3.0L straight-six engine with 47 hp more to offer than previously, for a total output of 382 hp. Peak torque of 369 lb-ft starts at 1,600 RPM, and the zero-to-100 clock time for this version is a mere 4.5 seconds.
Both these engines will be combined with a standard 8-speed Steptronic Sport transmission, with paddle shifters mounted on the steering wheel. The transmission features Launch Control for accelerating hard from a standing start with maximum traction. The transmission fitted in the BMW Z4 M40i has been configured with M-specific shift characteristics to complement the straight-six engine's power delivery.