Chrysler Canada will offer a new method of financing the purchase of Chrysler, Dodge, Jeep or Ram vehicles. Called 'Customer Choice Financing', this program allows consumers to purchase a new vehicle with low monthly payments and have the option to return the it at the end of the predetermined time period.
The Customer Choice Financing program will be offered starting September 1st, 2010 through TD Bank. Buyers will be able to select a 36-month, 48-month, or 60-month financing term. The financial institution will establish a residual value based on Black Book for the vehicle along with terms that have become familiar in traditional leasing programs (maximum number of kilometers, condition of the vehicle when returned, etc.). At the end of this period, the customer can then chose between "selling" the vehicle to the financial institution or elect to keep it and pay the established residual value.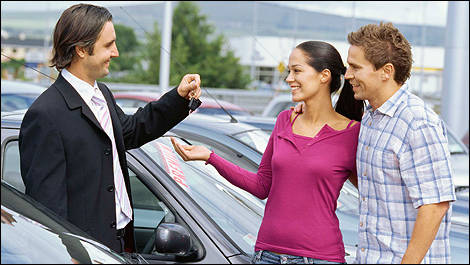 Photo: Thinkstock
"Customer Choice Financing offers many of the traditional advantages of a lease, such as an option to return the vehicle, with the added benefit of the consumer actually owning the car or truck," said Reid Bigland, President and CEO of Chrysler Canada.
"That's precisely where the difference lies: with this program, the consumer becomes the owner of the vehicle and yet he can choose to give back the vehicle at the end of the term if he wishes so", said Chrysler Canada spokesperson, Mary Gauthier in a phone interview.
This alternative to traditional long term leasing programs will surely attract new customers at Chrysler dealerships. It may also seduce other manufacturers. After all, according to Dave Buckingham, Vice President of Sales - Chrysler Canada, "more than 95 per cent of new vehicles sold in Canada require financing."