The Datsun (and later Nissan) 510 is one of the most iconic and historically rich cars to ever come out of Japan. Fitted with a 1.6L carbureted 4-cylinder engine from the factory, the diminutive auto would easily accept a donor heart from many of its siblings, up to 2.0L and sometimes even larger if an owner had the required expertise.
Even today, the 510 enjoys a cult status amongst those who value volume Japanese metal and pristine examples can be found on sale for well over $10,000.
The IDx Freeflow and NISMO lean heavily on the tradition set by its predecessor, itself based on the BMW 1600-2. Both concepts sport a three-box, retro shape without making the cars themselves look traditional or dated. If anything, they are ultra-modern, minimalist homages to the essence of what was once a very fun, sporty, and practical compact.
Not just a couple of retro-themed coupes, Nissan's goal was to reopen the possibility of individuality expressed in an automotive form. The concepts are just examples of what your IDx -- if they choose to let you build one -- could look like.
Much like the smart fortwo and its swappable body panels, the IDx expands on the idea by allowing a customer to define almost every aspect of the car -- headlights, drivetrain, bodywork, and interior -- to create the closest thing to a personal automotive identity possible.
The IDx is the product of Nissan bringing consumers and loyalists into the design process. Nissan calls it co-creation and they specifically targeted members of the "digital generation" for input. The approach highlighted new ideas that may have been ignored in the past, while still showcasing Nissan's heritage.
"I think our heritage is very strong," explained Nissan design chief, Shiro Nakamura.
"Therefore, if you have a very strong heritage, you can do it. If you don't have a strong heritage, you can not utilize that heritage."
Underneath it all, the two concepts are identical. However, thanks to different bodywork, headlights, and interiors, the cars couldn't be further apart. Both measure in at 13.5 feet long and 4.3 feet tall. The Freeflow has a width of 5.6 feet while the NISMO is 5.9 feet wide, all thanks to wider fenders wrapped around a much more aggressive wheel and tire package.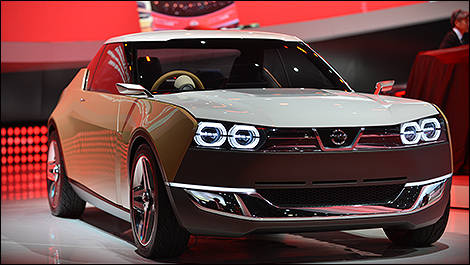 Photo: Nathan Leach-Proffer
A wide range of engines could power the IDx concepts should they make their way to production. Nissan states a 1.2L or 1.5L 4-cylinder engine mated to a CVT could be found in basic models, while more sporting iterations could be powered by the same turbocharged 1.6L 4-cylinder engine and manual transmission found in the Nissan JUKE. While talking to Nissan representatives in Detroit, we were told electric propulsion could also be a possibility, meshing well with Carlos Ghosn's vision of an electrified Nissan future.
At the show stand, Nissan had a virtual reality game where a player could build their own IDx by telling the system about their personality, values, and basic choices such as colour. In all, the game allowed for some 300+ different combinations, including convertibles and weekend racers.
Nissan is taking this exercise quite seriously and wants to at least bring one of the concept models to production, if not the customization process touted in the press release. During the press conference, Andy Palmer stated, while standing in front of the IDx examples and
Sport Sedan Concept
, that two models are in the production pipeline.
These ultra-cool coupes could also spawn an IDx compact SUV exercise in the near future. However, for those of us pining for the heyday of simple, fun motoring in a small package, the IDx Freeflow and NISMO are the ticket.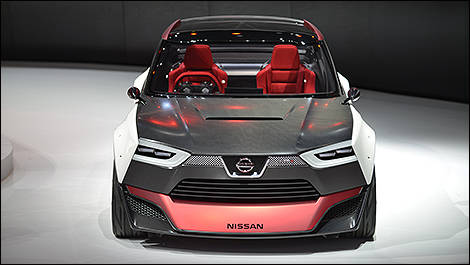 Photo: Nathan Leach-Proffer
If anything blossoms from Nissan's experiment, expect to hear some noise before this year's Tokyo Auto Show in November.