While Polestar has to date marketed just one model - the Polestar 2, launched in 2020 - it is about to expand its lineup to no fewer than five next-generation electric vehicles, each filling distinctly different segments and seeking to disrupt the established order among luxury vehicles.
Above all, Polestar aims, in the future, to further disassociate itself from Volvo products - its parent company now controlled by the Geely Group - through a stylistic language and technologies all its own.
What is Polestar?
Here are a few interesting facts about the company. By the end of this year, it aims to have built just over 70,000 vehicles worldwide, representing growth of 37% over last year. By 2025, Polestar, which has only been in existence for five years, expects to have achieved a 0 deficit, and is aiming for carbon neutrality by 2030.
It's already a success story. In the crucial market of Quebec, the Polestar 2 is currently one of the best-selling electric vehicles, beating out popular, affordable models such as the Nissan LEAF, Kia EV6 and Kia Niro EV.
See: 2024 Polestar 2 First Drive: 2WD Done Right
With the wind in its sails, Polestar saw fit to organize Polestar Day, a Keynote-style event held inside an air hangar in suburban Los Angeles. It was there that the automaker set the table for its short-, medium- and long-term projects. Auto123 was on hand to capture the most salient information. Here are all the details.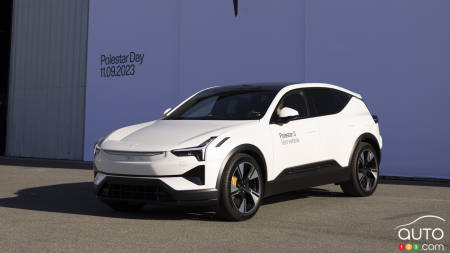 Polestar 3: next on the list, and made in the USA
In the short term, the Polestar 3, the brand's first SUV, is next to join the lineup early next year. A mechanical twin to the Volvo EX90 and built alongside it at Volvo's Charleston, South Carolina plant, the Polestar 3 features more singular styling, a sportier approach and a cabin designed for five passengers rather than the seven found in its Volvo counterpart.
See: 2023 Polestar 3: Polestar Finally Unveils its Third EV
Based on Geely's SPA2 architecture, the Polestar 3 is powered by a liquid-cooled NCM (Nickel Cobalt Manganese) lithium-ion battery. This battery has a usable capacity of 111 kWh, enough to power two electric motors, one on each axle, giving the vehicle four-wheel drive as standard. Total combined power is 360 kW, or the equivalent of 489 hp and 620 lb-ft of torque.
Consumers can also opt for a performance package, which boosts power and torque to 517 hp and 671 lb-ft respectively. Recharging power at a compatible rapid charging station is rated at 250 kW, while the on-board charger for the Level 2 home charging station delivers 11 kW.
Like its twin, the Polestar 3 looks to raise the bar in terms of autonomous driving technology, thanks to its lidar supplied by US company Luminar. In constant communication with the NVIDIA Drive Orin microprocessor, this radar enables the Polestar 3 to monitor its environment at all times, and to learn thanks to the integration of artificial intelligence. While some manufacturers, such as Tesla, are committed to a camera-based system for autonomous driving, Polestar, like Volvo, sees lidar as the technology of the future.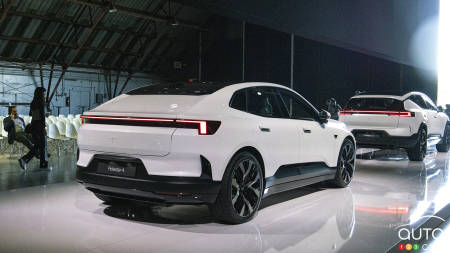 The Polestar 4, without a rear window and built in Korea?
Arguably the most interesting vehicle on the scene, the Polestar 4 will be introduced late next year as a 2025 model. Halfway between a hatchback and an SUV - Volvo calls it a crossover coupe - the Polestar 4 breaks new ground both in its contemporary styling and in its total absence of a rear window, which probably drew more attention than anything else on this day.
Yes that's right, Polestar is bringing to market a vehicle without a rear window. How will drivers see behind the vehicle? By means of a camera installed just below the spoiler, which projects an image into the rearview mirror. This technology is already used in the industry, but no manufacturer has yet had the courage to do away with the rear window altogether.
See: 2025 Polestar 4: The Evolution of the Precept Concept
I had the opportunity to take a seat in a pre-production prototype of the Polestar 4 to observe this technology in action. The sensation of not having a window is… special. As if we're isolated from the rest of the world. The Polestar 4 does feature a large panoramic roof that stretches all the way to the tailgate, which at least ensures a well-lit interior.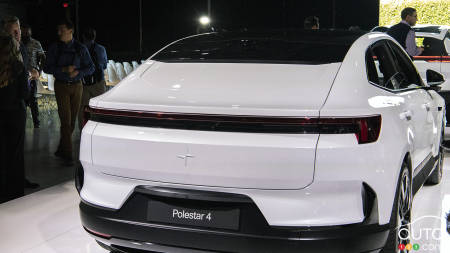 Of course, one question remains: during a harsh Canadian snowstorm, is there going to be a de-icing or cleaning system for this camera?
Polestar, which has an R&D centre based in Gutenberg, Sweden, says it carried out a ton of practical testing in winter conditions. The camera, the company explains, is positioned in such a way as to be protected from the elements by the spoiler and the vehicle's aerodynamics. We'll see how effective that is once we drive it in winter on Canadian roads!
The other big news regarding this electric model is that it will be built in South Korea, a first for a Scandinavian vehicle. This decision stems from the fact that SK on, a Korean battery supplier, will be supplying Polestar with batteries for this model. The battery has a usable capacity of 94 kWh and can handle up to 200 kW of recharging power, giving the vehicle a maximum range of around 480 km.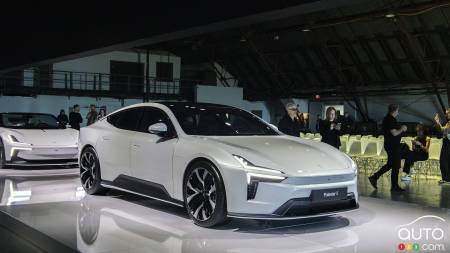 The Polestar 5: taking aim at Lucid, Porsche and Tesla
Planned for 2026 and developed in partnership with Lotus - also part of Geely - the Polestar 5 is a high-performance electric luxury sedan. It aims to compete with models such as the Porsche Taycan, Lucid Air and Tesla Model S Plaid.
See : Polestar Unveils Polestar 5
Technical data remain vague, but we know from reliable sources that it will be powered by a battery with a usable capacity of 103 kWh, enabling it to power two permanent magnet electric motors with a combined total output of 872 hp and 660 lb-ft of torque. For this model, Polestar is reportedly working with StoreDot to integrate its XFC charging technology. According to the manufacturer, this will enable the Polestar 5 to regain 160 km of range in just 5 minutes of charging.
As with the Polestar 4, there is no rear window.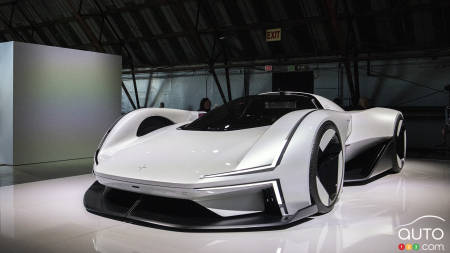 All in all, a great deal of information came out of the Polestar Day event in California. It will be interesting to follow the progress of this young manufacturer in the years to come. One thing's for sure, Polestar is clearly demonstrating that, in an electric world, the automobile need not be boring! Auto123 will soon have the chance to put the Polestar 3 through its paces and give you our driving impressions.