Here's a news flash that's not really news: the automotive industry continues to struggle with shortages of components, most glaringly microchips, and all indications are that the problem will be with us for some time to come. Inventories are limited and prices for new and used vehicles are at historic highs. But throughout this tough stretch for motorists, there are still - thankfully - more attractive vehicle options on the market.
Our exercise in this ranking does not involve a deep dive to find just the models selling at the lowest price – we covered that here! – but rather, the idea here is to determine which models offer the best possible quality for the price and offer the most generous level of equipment. For 2022, we're using the same categories as we did last year.
One per category, here are the 10 models to consider this year for the value they offer.
Shopicar.com, 100% online, shop for your next car, buy online and get it delivered to you anywhere in Quebec!
Best subcompact vehicle: Kia Rio 5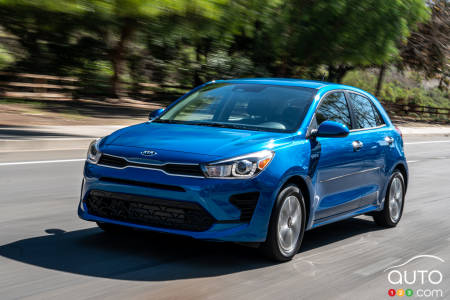 Like a barnacle on a fishing boat, the wee Kia Rio 5 is just hard to shake off in this segment. What can I say, this subcompact car does the same things as its SUV rivals (hello Nissan Kicks and Hyundai Venue), but at a lower price. What's more, its authentic car-like handling makes it a little more fun to drive than those urban SUVs. Plus, the Rio can still be ordered with a good ol' manual transmission.
Note that the little car out of South Korea is no longer available in sedan form, which now makes the Forte the most affordable sedan to fly the Kia flag.
Initial quality of the Rio is rated very highly, although it's also generally agreed that vehicles of Korean origin have the annoying habit of aging badly over time.
Honorable mention in the category goes to the Chevrolet Spark, if you're more of a car person, or the Nissan Kicks and Hyundai Venue if you're more of the utility model persuasion, this in spite of their front-wheel-drive configurations.