The radically new eighth-generation Chevrolet Corvette is about to be unleashed, and Auto123 was there as Chevrolet gave it an official presentation this week. After the long wait for the mid-engine C8 generation of the Corvette, fans of the model are in seventh – or eighth, we should say – heaven. The switch to central-engine configuration constitutes a revolution in the history of the model. So after the big splash of the media presentation, we take a look back at how the model got to where it is today, from C1 to C8.
1. Motorama 1953
On January, 1953 in New York City, GM put on the Motorama exhibition to promote its wares. The occasion was a particularly febrile one that day, as anticipation of seeing Chevrolet's much-talked-about EX-122 project had folks lining up to catch sight of what would become known as the Corvette.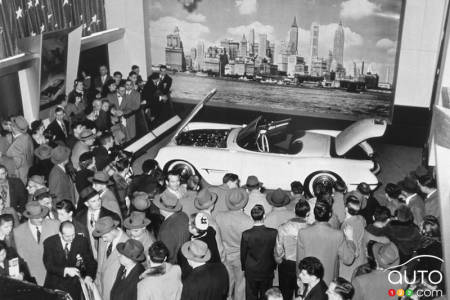 2. 1953 Corvette
Response was extremely positive, to say the least. The first Corvette car was produced just six months later, on June 30. During its first year, Chevrolet built only 300 units. GM's decision to go ahead with the project was an audacious one, because at the time sports cars accounted for less than 1% of total vehicle sales. As for what those first models are worth today, $150,000 is a common asking price, if it's need of restoration. In perfect condition? You'll have to fork over $350,000 – if you can find one.