Every year, Car and Driver publishes its list of the best vehicles of the year. Starting with the 2020 ranking, the magazine condensed its previous separate lists for cars and for SUVs/trucks into one Top 10 ranking, and as a result this is a bit of a smorgasbord of excellence. Here are the 10 models identified as the best for the coming 2021 year by the publication... with our little grain of salt added for good measure.
Note that Car and Driver considers only models available with an MSRP of $90,000 (USD) or less, and only those that are all-new or substantially revisited. The magazine's jury members spent two weeks testing and evaluating a total of 57 models.
Discover Shopicar! All new makes and models and all current promotions.
1 - Chevrolet Corvette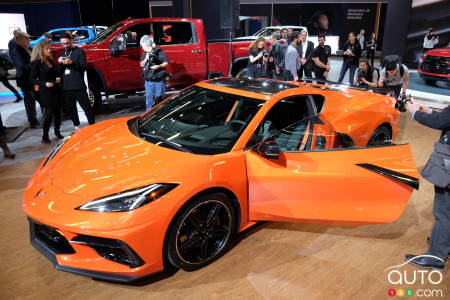 1 - Chevrolet Corvette
Other than finding the new C8 Corvette a little "weird" looking from certain angles (due mainly to the required presence of a trunk behind the mid-mounted V8 engine), Car and Driver came up with precious little to dislike about the radically changed new 'Vette.
What C&D liked:
- Great value, especially given the reasonable price point of this performance car
- 2.8 seconds for 0-60 mph acceleration
- The Z51 performance package is interesting but not essential
- Surprisingly well-appointed, refined interior
- Seats are supportive
- Versatile for a "super"car
- 8-speed dual-clutch transmission with manual mode does what you want it to
- Active exhaust gets all excited when you do
- Removable roof panels
Our review of the 2020 Chevrolet Corvette
See also: New Chevy Corvette C8 Falls off Lift at Dealership, Is Destroyed