Auto123 gets out its crystal ball and presents the 30 most notable models that will hit the market in 2023-2024. Today, 10 EVs (with one bonus model)!
See also: Top 30 Vehicle Models Expected in 2023-2024: The Cars
See also: Top 30 Vehicle Models Expected in 2023-2024: The SUVs
What has long been predicted, is becoming reality: the automotive (and commercial transportation) industry is moving rapidly toward a pure electric future. The list of new all-electric models due to debut in the next year or two is so long that we could have made this is an-electric Top 30!
As is our custom since we started this exercise, we have presented our overview of the most exciting and notable new models coming to market into three main categories: cars and sports cars, SUVs and electric vehicles.
For this third and final chapter, we take a (too) brief look at EVS coming down the pike. Get ready for an onslaught of new EVs in the next year or two.
Acura ZDX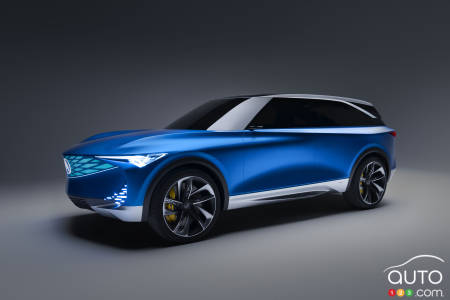 Earlier this year Honda admitted what was clear to everyone earlier this year. Both the Honda and Acura brands were behind in their transition to electrification.
But, all indications are that drastic steps are already being taken to accelerate the electric shift for both brands. The urgency is such that the first two electric vehicles Honda/Acura will launch in North America will be based on GM's Ultium platform. On one side is the Honda Prologue; on the other, Acura is resurrecting a name that was used a few years ago: ZDX.
Since the Acura ZDX is designed using the Ultium platform, we should expect fairly interesting power levels and ranges similar to those of GM's new/upcoming electric vehicles like the Chevrolet Blazer EV.
See also: Acura Precision EV Concept Previews Brand's Future EV Designs
See also: Acura Resurrects the ZDX Name for its First Electric SUV
See also: Acura shares the first images of its upcoming 2024 ZDX Type S SUV