2012 Mazda3
The coming mid-cycle revision of the
current Mazda3
will be the first production application of the SKYACTIV-G gasoline engine and SKYACTIV-Drive automatic transmission.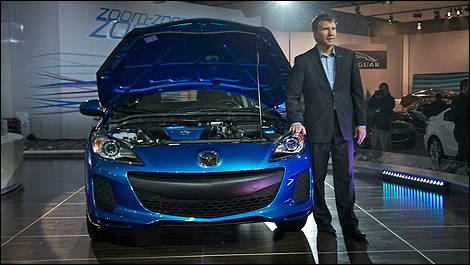 Photo: Michael Wong
What makes this engine SKYACTIV worthy? "Basically this is an ultra high-compression engine," says Davis. The compression ratio of recent gas engines is generally around 10:1 to 12:1. Davis wouldn't say what the compression ratio is on this particular engine, but did say that Mazda will have ratios as high as 14:1 in a couple of years.
Increasing compression improves efficiency, but its nemesis has always been "knocking" — premature ignition due to the increased heat and compression inside the combustion chamber.
Various new initiatives allowed Mazda to get rid of knocking. The initiatives basically fall into four categories: Removing residual gas in the chamber via exhaust technologies; combustion improvement; reduction of weight and mechanical friction; and combating low temperature oxidation (which robs torque).
If stuff like "combating low temperature oxidation" is actually interesting to you, and something you need to know more about, Mazda will be happy to accommodate, otherwise Mazda will be content if you understand that the net result is more power and more fuel efficiency.
Tech Talk
"From a tech standpoint this is hard story to tell, because it is a detailed story," notes Davis.
Canada president Dan Romano is also Chief Marketing Officer for Mazda North America. It's his job to make consumers understand SKYACTIV — he knows this is not an easy assignment.
"It's our biggest communication challenge since bringing out the rotary engine," says Romano. "The challenge will be do it properly, and not try to do this through a marketing campaign. We'll first get consumers curious about SKYACTIV and then direct them to our web site, where they can learn as much as they want to."
In the meantime we've posted a link to
Mazda Canada's website
where you can find more in depth info on SKYACTIV technologies.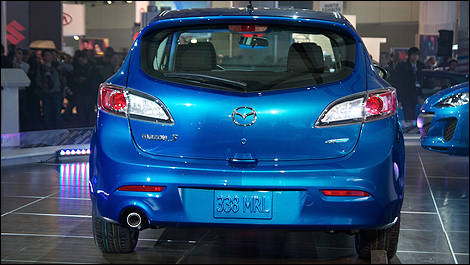 Photo: Michael Wong