Volkswagen has temporarily suspended production of two EV models at plants in Germany. As reported by Reuters, the two models are the VW ID.3 and the Cupra Born.
The reason for the decision is simple: Lower-than-expected demand.
The production stoppage takes effect during the first two weeks of October, from the 2nd to the 13th at VW's Zwickau plant and from the 2nd to the 16th at the Dresden factory.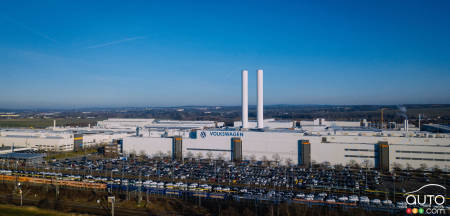 The company did not mention how many workers would be affected by the measure. The two plants together employ over 11,000 people. They also handle production of the VW ID.4 and ID.5 as well as the Audi Q4 e-tron.
Volkswagen cites increased competition from Tesla and other Chinese companies manufacturing electric vehicles as the reason for the drop in demand. Tesla, recall, doesn't have to deal with all the constraints of the traditional automaker when it comes to lowering vehicle's prices, for example.
In the case of vehicles from China, it's a different story. On that front, the European Commission has launched an investigation to determine whether customs duties should be imposed to protect European manufacturers from the influx of cheaper, subsidized EVs built in China.
Volkswagen obviously wants the EU to take action against Chinese imports. Chinese electric models are around 20-percent cheaper than their European-built contemporaries, before government EV rebates.
Inflation and declining incentives are other factors cited to explain the drop in demand.
It remains to be seen whether these planned closures will affect factories in the long term, and how demand will stabilize over the coming months. It's all very well to produce electric vehicles by the ton, but you still need buyers.