There has much speculation in the past two years regarding Volkswagen's plans to expand its SUV lineup. The latest-generation Tiguan that was introduced two years ago gained in size, and no new model has been slotted in to fill the void it left in the smaller segment it had departed.
That segment happens to be where manufacturers are seeing their most robust sales, so there's no doubt the pressure has been on at VW HQ to come up with a model to compete in it.
Now it looks like the VW model will soon welcome a new member that will slot precisely into that category. But the surprise is that the news of an upcoming North American crossover comes from… Argentina.
Volkswagen representatives in that country have announced that the automaker is making a big investment in its Pacheco plant, where the Amarok pickup is currently assembled. The goal of the cash influx is to pave the way for producing a utility model, to be called the Tarek.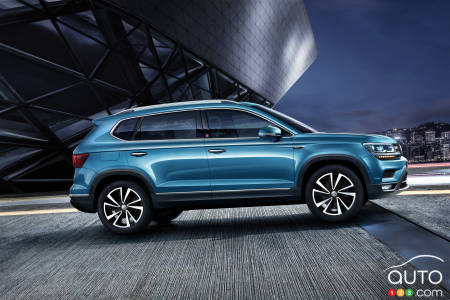 The Argentinian branch of media outlet Autoblog posted images of a presentation regarding the Tarek, which shows the model that will also be built in Mexico for its domestic market, as well as for the U.S. and Canada. The new SUV will also be assembled in Russia for that country's market.
The images indicate that the Tarek will be a close cousin of the Tharu currently sold in China. Assembled on Volkswagen's MQB platform, the five-seat SUV is 175 inches tip to tip, which is 10 inches less the long-wheelbase Tiguan Volkswagen introduced two years ago. The Tarek, in fact, looks to model itself in good part on the older-generation Tiguan.
The new SUV won't be hitting dealerships anytime soon, however, as production is only set to start in 2021. We also don't have confirmation from Volkswagen in Canada or the U.S. regarding plans for the model, and if pressed it's likely representatives of these divisions would limit themselves to the usual "we never make any statements regarding our future products" kind of statement.
Still, if this is a solid rumour and proves to be accurate, we should get confirmation of that before the end of this year.
There's no doubt that the addition of an SUV to the Volkswagen lineup makes a lot of sense, since the roster has a gaping hole in it since the Tiguan was enlarged for its new generation. We can only keep our fingers crossed in hopes it will be infused with VW's European DNA and not designed solely with the U.S. market in mind.