This week the annual Wörthersee event took over a corner of Austria. The large-scale gathering is a celebration of all things Volkswagen; stay tuned in the coming days for a report on Auto123.com from our intrepid Vincent Aubé, who took part in the event.
The Wörthersee features its fair share and then some of classic VW cars, but it also serves as a showcase for the latest new models as well as cutting-edge technologies the company is currently working on.
This year, Volkswagen presented an early look at a super-futuristic system, which it showed inside a Golf GTI Aurora concept. The system features holographic controls for the vehicle's audio system.
For the version demonstrated at the event, the system was outsized and placed in the trunk. As shown in these images, it projects large virtual buttons that "float" in the air, via which the user can adjust the volume, choose or pause a track and more – all using only fingers in mid-air.
Volkswagen was understandably reluctant to provide too many details about the way the system actually works, since the system is still in the early development stage the company wants to protect its secrets. Company representatives did say that the program's algorithms and what they call "visual technology modules" were responsible for the visual images. The system can recognize motions made by the user who wants to "push" one of the buttons. The folks at VW also stressed that the system is highly intuitive and natural-feeling, and shouldn't scare off even those not used to dealing with holograms.
As mentioned, this system is in its embryonic phase and nowhere near ready for use in production vehicles. And even if it was, it would at this point be prohibitively expensive. Volkswagen's timeline for a workable, affordable system is a decade from now. Evidently, the system will have to work on a much smaller scale than what was shown at the Wörthersee; it would have to fit into the central console, for one.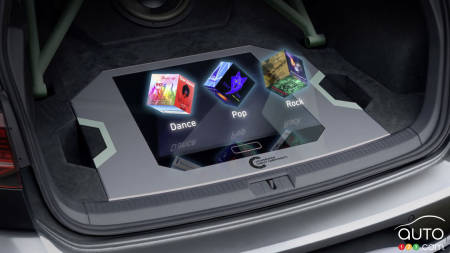 By 10 years from now, we can also assume that vehicle interiors will be passably different than what we're used to today. It's easy to conceive, for example, that a hologram can be made to "disappear" from view when not in use.
The touchscreen, so in vogue and increasingly omnipresent in current vehicles, may well be a thing of the past within a decade or two…