San Francisco, CA -- Quiet, luxury and tech were the words of the day at the launch of the refreshed 2016 Mitsubishi Outlander in San Francisco, as the Japanese automaker prepares for an all-out assault on the midsize crossover market.
I say "midsize," but the Mitsu folks on-hand insisted on calling it a "Premium Compact SUV," which I find a little misleading. Not in a bad way, mind you: It's misleading because features like V6 power and optional third-row seating pull the "compact" right out of that title, as far as I'm concerned.
An all-new "Dynamic Shield" front fascia replaces the awkward squared-jaw look from the last model. There's more chrome, standard LED DRLs (LED headlights are optional), standard LED taillights and new 18" wheels. Steel wheels aren't even an option, although the standard 16" alloys remain unchanged from last year.
It's definitely a step up in the looks department, although the long overhang ahead of the front wheels do look a little awkward, even with the new meta front skidplate.
Two engines, two transmissions, two AWD systems, two seating arrangements
However, if you are hoping to get that third row of seating -- and plenty of Canadians did last year, with 70% of all Outlanders sold having that feature -- you'll need to go with the bigger of the two engines offered, a 3.0L SOHC MIVEC V6 making 224 horsepower and 216 lb-ft of torque; eagle-eyed observers will see that the hp figure is actually down three from last year's model, which Mitsubishi maintains hasn't adversely affected performance, and which I have to agree with.
The other engine is a 2.4L MIVEC 4-banger, making 166 hp and 162 lb-ft, but that's not really the story. The real story is the addition of a new "CVT8" Continuously Variable Automatic Transmission.
Properly identifiable shift points provide the feeling that you're driving a conventional automatic. It's well implemented, with the main shortcoming being that there is no paddle-shift option. It's not that paddle shifters don't work with CVTs -- Nissan has proven they do for a number of years, now -- so it's too bad we won't see it on the new Outlander.
V6 models are available only with a conventional 6-speed automatic, and that can be had with paddle shifters. V6 models are also only available with all-wheel drive (4-cylinder models can be had with either front- or all-wheel drive, but it's unlikely that many Canadians are going to select the former), and they're the only models that provide third-row seating, which comes as standard.
With regard to AWD: Both AWD and S-AWD will be offered, the former providing three drive modes (ECO, Normal, Lock), the latter adding "Snow" to that equation, as well as an active front differential that can individually power either front wheel, whereas the standard AWD system can only split power between the front and rear axles.
More tech, more accessibility inside
Requiring a degree in advanced physics to collapse the second row is no longer the case as it was in 2015 models. There's no power option, but the action is now a lot simpler, requiring a tug on two straps (one to collapse the headrest, one the bottom seat cushion) and a lever on the seat shoulder, collapsing the seatback and forming a flat load floor. It's still a bit of a clamber to get back there, though.
In the tech department: A new head unit on models sans navigation means more ease-of-use as the finicky touch surface from the old model was replaced by proper buttons. They've also moved the volume, media, and radio controls closer to the driver.
Both Apple Carplay and Android Auto will soon be supported, although we weren't told we'd be seeing it later in MY '16 or if we'd have to wait until MY 2017.
Better leather in vehicles that are so equipped and niceties like contrast stitching both on cloth and leather surfaces, piano black centre stack, and chrome accents on the steering wheel and dash make for a more livable interior.
Quieter. Much, much quieter
Mitsu went through the body panels and chassis with a fine-tooth comb in order to reduce Noise, Vibration and Harshness (NVH) levels; the front fenders have more sound-deadening foams, as does the engine bay and floor. Even the wing mirrors were given a dollop of the stuff, and it has worked remarkably well, reducing noise by almost 5 dBA at some frequencies.
Both my drive partner and myself were impressed by just how quiet it was, even compared to the 2015 model, which we had the chance to sample alongside the 2016 car. We could carry on normal conversations hardly raising our voices even at highway speeds. Coupled with a smoother ride due to new suspension tuning and larger front and rear crossmembers, the '16 Outlander does inch that much closer to the "premium compact SUV" level.
Unfortunately, it does feel a little as if Mitsubishi forgot the "sport" part of "sport utility vehicle." It's smooth, yes, but I'd hardly call it "athletic" through the bends, where body roll and accompanying understeer are pretty noticeable, even more so if you select the heavier V6. As a result, it's actually the 4-cylinder/CVT combo that feels the sportier of the two vehicles, which suggests we'll be seeing these take a bigger bite out of V6 sales this time around.
Seven trim packages are available, three with the I4 and two rows of seating, four with the V6, AWD and three rows: ES FWD ($25,998), ES AWC ($27,998), ES AWC Premium ($31,998), SE AWC ($31,198), SE AWC Touring ($32,798), GT S-AWC ($$36,498) and GT S-AWC Navi, the only trim that comes with navigation ($38, 498)
For our money, the SE AWC is the way to go if you absolutely have to have three rows and V6 power, not to mention a bargain when you consider that similarly equipped, but smaller and 4-cylinder powered vehicles like the Honda CR-V and Mazda CX-5 come in at around the same price.
However, if a third row isn't priority No. 1, then a well-equipped four-banger (features like heated seats and windshield wiper de-icer are standard) like the ES AWC will likely fit the bill just fine when the 2016 Outlander goes on sale this July.
Road Tests and Reviews

Consumers
2016 Mitsubishi Outlander
2016 Mitsubishi Outlander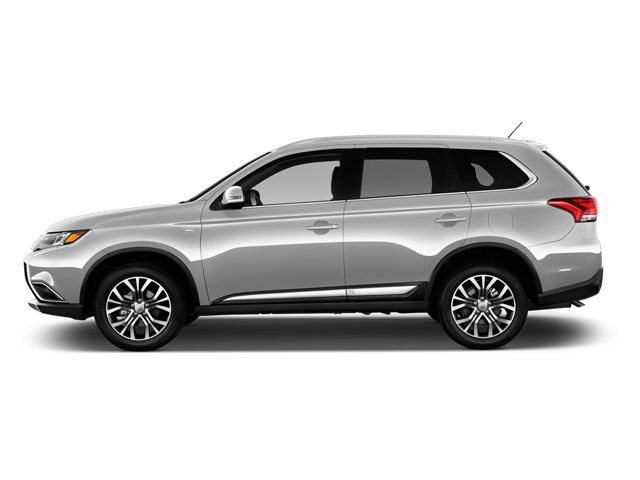 2016 Mitsubishi Outlander