Jeep is a crucial brand for auto manufacturing giant FCA; it benefits from strong recognition worldwide and racks up enviable sales figures that continue to grow year after year. What's more, this legendary American automaker has earned itself a very loyal customer base for which its nearly 75-year heritage is a point of pride.
In the Jeep lineup, the Compass sits between the Renegade and the Cherokee, while taking inspiration from the Grand Cherokee and even the legendary Wrangler. The 2017 Compass is sold on four continents and in nearly 100 countries; it competes in the compact SUV market segment against the likes of the Mazda CX-5, Honda CR-V, Toyota RAV4, Nissan Rogue, Ford Escape, Hyundai Tucson and Kia Sportage, as well as the Chevrolet Equinox, freshly redesigned for 2018. This gives you an idea of the ruthless competitiveness of this category which continues to grow in popularity.
The next-generation Compass currently making its entry into Canadian dealerships is a more refined product than its predecessor, which was first introduced in the early 2000s and got a significant overhaul in 2011.
Ambassador for the Jeep line
The broad styling strokes of the 2017 Jeep Compass are at once distinctive and strongly representative of the Jeep line, particularly due to its 7-slotted grille. The design orientation is based on a classic, refined approach, though certain more rugged and sporty elements have been retained for the Trailhawk version. It's worth making mention of the Limited versions featuring eye-catching black roofs and superb twin-panel sunroofs that constitute an irresistible invitation to take in more of the great outdoors.
A stroll around the new Compass reveals some very interesting details, particularly in the Limited version, which features a chrome band that frames the rear window and the bottom of the roof, providing an appealing touch of high-endness. In the eyes of many an industry observer, in fact, the new Compass is in many ways a Grand Cherokee writ small – not a small compliment. We also found much to like about the shape of the headlights, as well as the Trailhawk version's inclined front fascia and red tow hooks. The Jeep Compass Trailhawk further burnishes its off-road bona-fides with an elevated suspension and increased clearance around the wheel wells; this version also features the Trail Rated badge that speaks to its all-terrain capabilities.
A job well done by the design team, then, particularly as it also paid close attention to the interior, now decked out with a choice of white, sand or green-brown finishing, each one distinctive and allowing for some level of personalization. The dashboard, meanwhile, is pleasing to the eye and sports much more elegant finishing than previously. Another undeniably strong point of the 2017 Jeep Compass is the fourth-generation Uconnect system, compatible with Apple CarPlay and Android Auto and displayed on either 7-inch or 8.4 inch (buyer's choice) screens, which are among the best on offer in the category. As for overall interior space, it's more than acceptable for this format of SUV.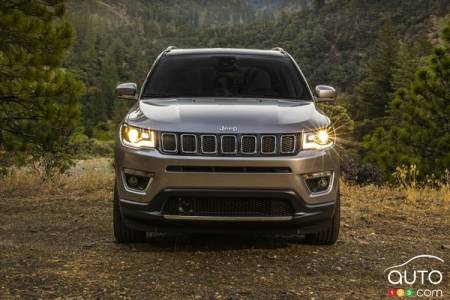 Well-equipped for all terrains
Priced starting at $24,900, the 2017 Jeep Compass retains its 2.4L, 4-cylinder Tigershark MultiAir engine that produces 180 hp and 175 lb-ft of torque. Front-wheel drive is offered in the Sport and North base models, along with a 6-speed manual transmission, though by Jeep's own admission these account for less than 5% of Compass sales. More popular by far is the available 6-speed automatic, as well as a 9-speed automatic gearbox designed by German company ZF.
To improve traction, the new Compass incorporates the Jeep Active Drive and Active Drive Low (Trailhawk) systems. The latter uses a Selec-Stop descent speed limiter and a Selec-Terrain drive management system that includes Auto, Snow, Sand and Mud modes, and which incorporates 12 adjustment parameters like stability control, traction control and the gearbox, all responding to the terrain being driven on.
The rugged Jeep Compass Trailhawk adds 5 centimetres of ground clearance, tow hooks front and back, Koni shocks calibrated for off-road driving and a unique fascia with a short overhang that allows for a 30-degree approach angle, a 24-degree breakover angle and a 34-degree departure angle. Its fording height (water clearance) is 48.2 cm.
Modernized driving experience
As soon as one gets behind the wheel of the new Jeep Compass, immediately obvious are the modernized interior and the upgraded overall appearance. This significant improvement will definitely help it be more competitive in its category, and even make inroads in the segment's higher end, particularly with the Limited version.
On the road, the new Compass distinguishes itself from its predecessor with a platform that offers both rigidity and proper road handling. The engineers at Jeep, in fact, toiled long and hard on this aspect of the new edition, along with sound insulation.
The Jeep Compass showed itself to be a stable, comfortable and well-calibrated creature on the road, particularly in terms of steering and braking. Really, it comes with no specific negatives, with one exception: the engine. It unfortunately lacks power at the high-rev end, hitting its upper ceiling too quickly on the highway, and the sound level it produces is high. Taking a cue from the Honda CR-V and adding a turbo engine would serve the new Compass well, improving performance without affecting fuel consumption. By the way, the numbers for fuel use provided by the manufacturer are quite impressive: 7.8 L/100 km on highway and close to 9.0 L/100 km in city. In response to queries regarding a possible hybrid version of Compass, the brain-trust at Jeep claims to have no short- or medium-term plan to produce such a model.
An off-road adventure
During our road test, an off-road route allowed us to put to the test the Compass' 4-wheel drive system that features a lockable differential for 50/50 torque distribution, ensuring improved traction and faster detection of terrain conditions.
This system also gave the Compass Trailhawk the tools to take on extreme conditions without any wheel slippage and overcome obstacles with full confidence. We're not in Wrangler territory, let's be clear, but overall the Compass performs much better off the road than do its competitors.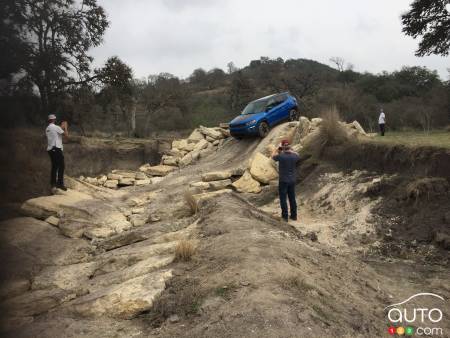 A valid choice, without delivering a knockout blow to competitors
In general, we liked the distinctive yet Jeep-ish styling of the 2017 Jeep Compass, its modernized interior and its stable and comfortable road handling; but were less impressed by the engine, which could use more power and dynamism.
The team at Jeep has done an honorable job with the new Compass. The idea of offering a Trail-Rated Trailhawk was definitely a winning one in our view, as it allows the Compass to distinguish itself from its rivals and leave them behind as it heads off on more difficult trails. The formula is a somewhat new one for Jeep, but it's a successful one.
Pros
True to the Jeep brand and heritage
Successful styling, especially in the case of the black-roofed Limited version
Excellent 4-wheel drive system
Available 9-speed automatic transmission box
Fuel-efficient when equipped with stop-start feature
Trailhawk version delivering surprising off-road capabilities
Nice presentation inside
UConnect system
Cons
Limited power of the engine at high revs
Engine noisy when shifting gears
Road Tests and Reviews

Experts

Consumers
2017 Jeep Compass