• Auto123 reviews the 2024 Mazda CX-90 PHEV.
For many folks, a plug-in hybrid vehicle is a way station, a transition point to the all-electric vehicle that will be in the driveway at some point in the near-future. Mazda, which is late to the electrification game, has just delivered a new way station for families.
The new 2024 Mazda CX-90 is available in PHEV version, but point number-one to keep in mind with this SUV is that it delivers 42 km of range – in optimal conditions. Unfortunately, this isn't enough to make the model attractive. In particular, in Canadian winter that figure can drop to 20 to 25 km before the SUV has to switch to gasoline mode.
In this respect, it's a decent effort that offers too little to really draw customers in.
Specification sheets of the 2024 Mazda CX-90 PHEV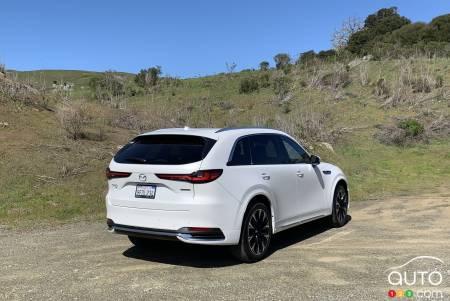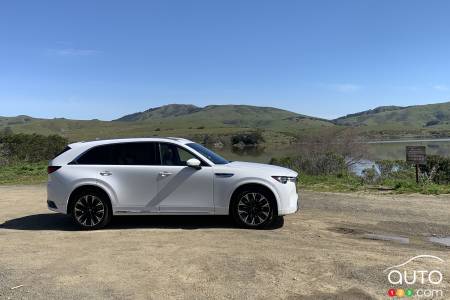 Design of the 2024 Mazda CX-90 PHEV
The exterior styling of Mazda's newest SUV is both different and familiar. We recognize the brand's character traits, but discover more inspired curves and lines. Mazda has succeeded in bringing its sporty style to an SUV package. There's chrome to appeal to the American consumer, and curves with right angles that give a more modern look than the egg-shaped CX-9.
Mazda designers say the body's curves create changing expressions, intended to deliberately reflect light and shadow so that the car's appearance evolves throughout the day. This is particularly true if you opt for the colour burgundy or white, which bring out the model's features more clearly.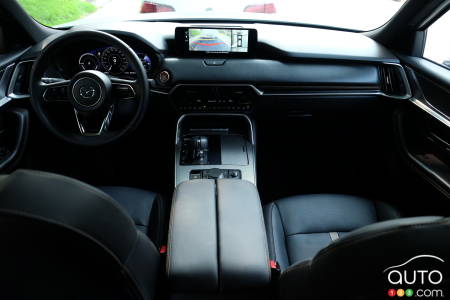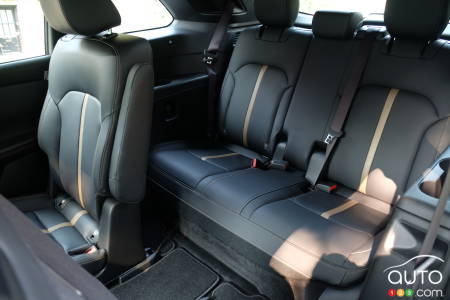 Interior of the 2024 Mazda CX-90 PHEV
To accompany this handsome exterior, Mazda has given the CX-90 an elegant cabin style with room for up to eight occupants. Opt for the second-row captain's chairs and the total number of seats drops to seven.
The fabric dashboard trim in top-of-the-range models has a striking hand-stitched look, and the seats in these finishes are also covered in soft Nappa leather. Mazda also had the wisdom to retain physical buttons for the most commonly used functions, like audio and climate control.
The only drawback is that, even after adding 19 cm to the wheelbase compared with the CX-9, the vehicle doesn't really feel much bigger in functional terms. Cargo space behind the rear seat is barely bigger (421 litres compared to 407). For an average-sized adult, the third row is rather cramped.
The best use for the CX-90 is for a family of four or five, with the third row available for emergencies but otherwise left folded down.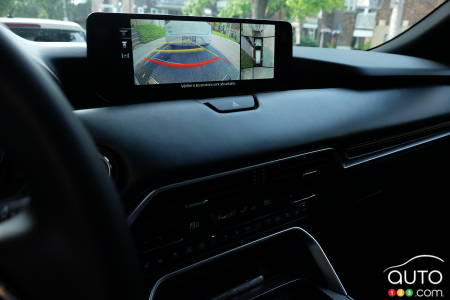 Technology and safety in the 2024 Mazda CX-90 PHEV
The infotainment screen on the dash can be 10.3-inch, 12.3-inch or even larger, and it's controlled via a selector wheel on the lower centre console. Mazda's latest infotainment interface is easy to navigate and relatively intuitive. Apple CarPlay and Android Auto come as standard with wireless connectivity that works very well.
Lower trim levels of the CX-90 feature a 7.0-inch digital gauge display and an 8-speaker audio system. A larger 12.3-inch digital gauge cluster is optional, as is a 12-speaker Bose premium audio system.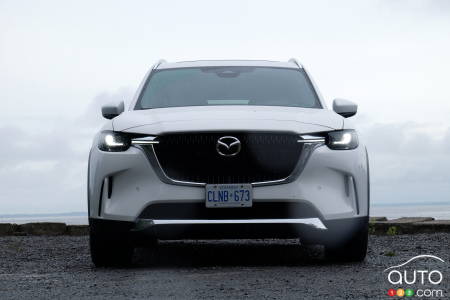 Versions and configurations of the 2024 Mazda CX-90 PHEV
All CX-90 PHEV models feature Mi-Drive, with Sport and Off-Road modes, plus the new Electric Vehicle (EV) mode.
There are three versions to choose from. The CX-90 PHEV GS ($54,950) seats eight. The 12.3-inch screen is standard. The CX-90 PHEV GS-L ($59,900) comes standard with second-row captain's chairs (so 7-person capacity), armrests and a centre aisle to pass through.
The CX-90 PHEV GT ($64,350) is the only model to offer a 1,500-watt charging socket in the trunk, which can power or charge appliances and equipment. It's also equipped with 21-inch alloy wheels, and it also features a satin chrome-finish wheel-lip trim accented with the Mazda wordmark. Inside, occupants are treated to soft Nappa leather upholstery, available in black or arctic white.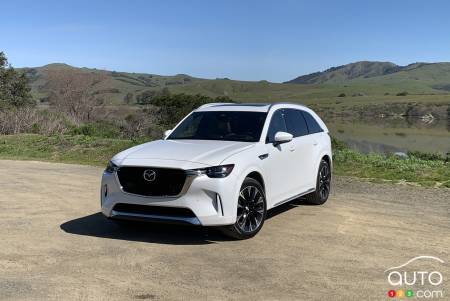 Powertrain of the 2024 Mazda CX-90 PHEV
With its 2.5L gasoline engine combined with an electric motor, the CX-90 PHEV offers a combined output of 323 hp and 369 lb-ft of torque. This performance enables the SUV to accelerate from 0 to 100 km/h in 6.5 seconds, impressive for a model of its size.
The CX-90's electric range is mediocre, but it's probably enough for many daily commutes and local errands, provided you can plug it in at night and/or at work. And yes, it's essential to stress that a plug-in hybrid vehicle, like the CX-90, needs to be plugged in regularly for you to take full advantage of its fuel economy potential.
Anyways, we would have liked more than the official 42 km of range. It's not a lot to get from a 17.8-kWh battery.
Driving the 2024 Mazda CX-90 PHEV
On the road, the Mazda CX-90 offers a sporty, dynamic ride, with precise steering and good feedback. What you expect and want from a Mazda, even a big Mazda like this.
However, the CX-90's powertrain does have an issue or two. Namely, there's an occasionally discernible jerky transition between electric and petrol modes at low speeds. This hiccup needs remedying in future updates to ensure a smoother, more refined driving experience.
For the rest, the car's presence on the road is, as mentioned, typical of all Mazda products. Despite its size, this model is quick to react and doesn't hate winding roads. It's a real pleasure to drive, a characteristic of the brand and a r rarity in this market segment not know for delivering dynamic driving.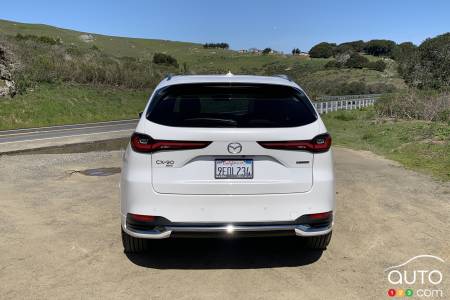 Pricing for the 2024 Mazda CX-90 PHEV
Mazda isn't giving its CX-90 away, put it that way. Pricing starts at $54,900 for a base GS version, rising to $59,950 for the GS-L model and $64,350 for a GT version. Add to that a few extras like Artisan Red paint for $450 or Rhodium White Metallic for $350. You can also choose from Pure White or Windsor Tan Nappa leather for $200.
The CX-90 PHEV is eligible for a $5,000 incentive from the provincial government in Quebec, and likely in other jurisdictions (check your home province for specific eligibility requirements). On the federal side, because its 42 km electric range doesn't reach the 50 km threshold, the CX-90 PHEV is good for a discount of only $2,500 instead of $5,000.
The final word
The 2024 Mazda CX-90 is an interesting option for those looking to go electric while enjoying sporty, dynamic driving. However, the model lags behind competitors in terms of electric range, powertrain and interior space.
The CX-90 offers a pleasant and elegant driving experience. However, it lags behind its competitors in the three-row SUV segment, and some adjustments would be necessary to make it more competitive.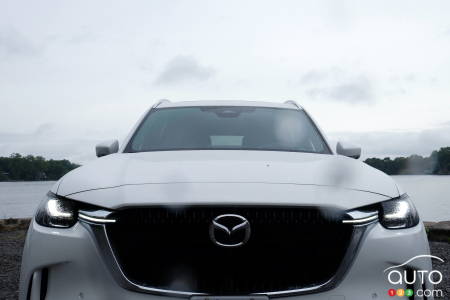 Questions to ask about the CX-90 PHEV
Mazda is in a strange position with a CX-90 that wants to compete with both mass-market models like the Kia Telluride and its cousin the Hyundai Palisade, and more upscale products like the Acura MDX or a Lexus TX. The stingy electric range puts it behind other hybrid models for fuel economy, and its lack of space also puts it behind mass-market models in the segment. From a purely practical point of view, the Kia Telluride is cheaper, roomier and better equipped.
If only Mazda could design efficient electric motors, we wouldn't even be having this discussion.
Strong points
Competent engine
Interesting ride
Good styling
Weak points
Irritating multifunction display
Limited third-row space
Short range
Competitors of the 2024 Mazda CX-90 PHEV
Kia Sorento PHEV
Volvo XC90