New York –
The New York International Auto Show celebrated its 111th anniversary this year. To highlight the extraordinary milestone in the small auto show world, the organizers included a historical exhibit presented by the LeMay car museum in Tacoma, Washington.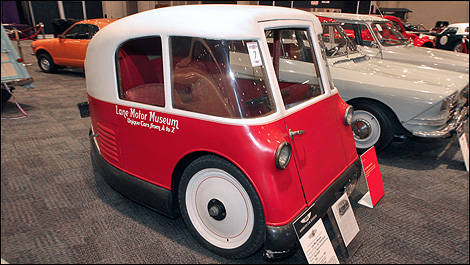 Built in the US, this two-seat three-wheeler features a 737-cc, 4-cylinder, transversally mounted, American Austin rear engine. It generated 30 hp and allowed maximum speeds of 100 km/h. Like the BMW Isetta, it featured a single front door. (Photo: Luc Gagné/Auto123.com)
Dubbed "Petit Concours", the event featured almost thirty micro and mini cars, ten of which are included here. A great reminder that products like the smart fortwo and
Scion iQ
aren't a 21st century invention!
Unfortunately, the Petit Concours was just a temporary event. Held in a 2,000 square metre hall apart from the other exhibits, it ran during the first weekend of the show only, from April 22 to 24, and not all the way through to May 1.
Be that as it may, these motorized three- and four-wheel munchkins were definitely worth the trip! These were rare models as well, such as a Goggomobil, some Crosleys and a Peel, among others. The cars were categorized not by size (Liliputian in the case of the Peel) but rather displacement. In collectors' terms, a micro car displaces 500 cc or less, while a mini car has a displacement of 501 to 1,000 cc.
LeMay, America's car museum
The event also heralded the upcoming inauguration of the LeMay Museum (
www.lemaymuseum.org
) scheduled for May 19, 2012. The new institution dedicated to the history of the automobile is currently building a veritable car campus on a 3.6-hectare estate at the heart of Tacoma. The megaproject represents a 60 million dollar investment.
The complex will be built around a huge four-story museum stretching out on 15,000 square metres of exhibit space. It will include exhibition halls that can hold over 500 vehicles, meeting rooms, a restaurant, storage rooms and more. Around this enormous building, 1.5 hectare of land will be used for concours d'élégance and rock concerts and can even be turned into a drive-in theatre.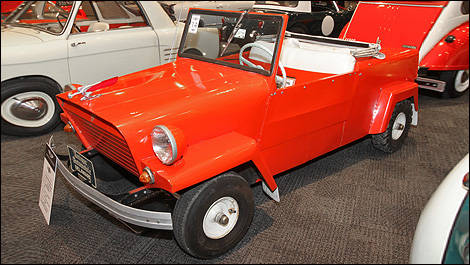 An American automaker founded in 1946, King Midget produced the Model 3, a two-seat convertible, from 1957 to 1969. It was equipped with a 376-cc, single-cylinder, Wisconcin rear engine that deployed 9.2 hp and burned an average of 3.9 litres per 100 km. (Photo: Luc Gagné/Auto123.com)