Pros:
Cadillac's smash hit, the ATS, enters 2014 on an award-winning rampage that combines lightweight engineering and advanced powertrain technologies into a striking package targeted towards driving enthusiasts. Plenty of selection, world-class features and highly acclaimed ride and handling characteristics continue to define Cadillac's entry-level luxury sports sedan that takes a place beneath the all-new CTS in the model range.
Cons:
The size of the ATS isn't conducive to travel with 4 or 5 adults on board, and is likely best-suited to a young family or couple. The high-tech systems and interfaces may pose a learning curve for some drivers, too.
2014 Cadillac ATS Price:
For 2014, the ATS starts at $35,195 although numerous options exist to increase that figure by moving up through various powertrain combinations, trim grades, options, and equipment packages.
2014 Cadillac ATS Fuel Economy:
Combined fuel efficiency ratings range from 7.8L/100km to 9.8L/100km, depending on the powertrain selected.
Improvements and Changes:
Other than a few minor changes to colour options, equipment and trim levels, and a new rearview mirror, the ATS enters 2014 unchanged from last year's launch model.
Don't Miss:
The CUE infotainment system. By combining numerous functions related to entertainment, navigation, and communication onto a vivid touchscreen with an easy-to-use interface, Cadillac has advanced connected driving to the next level. The ATS even allows owners to use their Smartphones to capitalize on various functionalities including remote start, vehicle service scheduling, and GPS locating in busy parking lots.
2014 Cadillac ATS Powertrain:
The ATS is available with two 4-cylinder engine options, and a single V6. Standard is a high-efficiency 2.5L 4-cylinder tuned for 202 horsepower. A celebrated 2.0L turbo engine turns in 272 horsepower and robust low-end torque. Finally, the line-topping 3.6L V6, which was recently reworked for lighter weight and more power, turns out 321 horsepower. Shoppers can specify rear- or all-wheel drive (AWD), and manual or automatic transmissions, depending on the selected model.
Safety:
ATS ships with the latest hazard-detection systems as available or standard, depending on the model. Look for blind spot, lane-departure and pre-collision warning systems, as well as the new Safety Alert seat that discreetly alerts drivers of potential hazards with subtle seat vibrations. OnStar, xenon lighting and a powerful braking system add further confidence.
Comparables:
The ATS competes with other luxury sports sedans like the Acura TSX, BMW 3-Series,
Audi A4
,
Lexus IS
, and
Mercedes C-Class
, to name a few.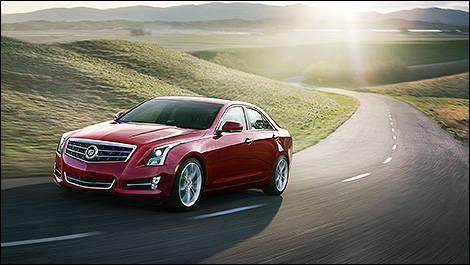 Photo: Cadillac
2014 Cadillac ATS