The Forte is readying for a new charge at the top of its segment; this little Kia joins the Volkswagen Jetta in renewing itself for 2019 in hopes of regaining ground lost in the highly competitive compact sedan segment. The 2018 North American International Auto Show in Detroit was the setting today for the world premiere of the third-generation 2019 Kia Forte, scheduled to hit the market as of this coming fall.
"The new Forte has been re-engineered to provide compact sedan buyers with more of exactly what they want – safety, comfort, fuel efficiency and useful technology."

- Ted Lancaster, Vice President and COO, Kia Canada Inc.
Benefiting from a structure that is 26% more rigid than before, the 2019 Kia Forte is also longer, larger and taller than previous editions, which allows the automaker to promise interior space that is hard to beat in the category. In addition, improvements have been made to the suspension and seats to improve comfort levels during longer road trips. Occupants should warm quickly to that as well as to the uncluttered and more-upscale cabin, which now includes a standard 8-inch touchscreen with Android Auto and Apple CarPlay compatibility plus an available 320-watt harman/kardon audio system.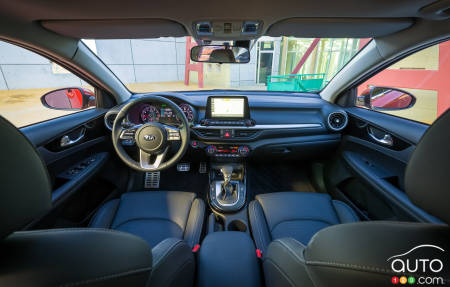 Under the hood, expect a Smart Stream engine, with technology developed jointly with Hyundai; the new powertrain delivers greater fuel efficiency but the same level of power (147 hp and 132 b-ft of torque). A big change involves the availability as an option of the first continuously variable transmission (CVT) developed and built by Kia, which further improves fuel economy.
Safety elements incorporated in the new 2019 Forte include a blind spot monitor, lane keep assist, forward collision warning and intelligent cruise control.
As for the design, it is said to be strongly inspired by the sensational new Kia Stinger, and while there's no doubt that the look of new Forte represents a welcome step forward in comparison with the previous Forte, in our view the team at Kia could have let loose a little more in order to truly grab the attention of consumers. Tell us what you think!
The 2019 Kia Forte will make its debut Canadian appearance this Thursday in Montreal, and we will of course be providing you with additional details later on.
2019 Kia Forte