In the last few weeks, I did something I rarely get to do: I test drove two Cadillacs! No foolin'! An
XTS
and an
ATS
!
The last I got to sample was a pair of
Escalades
last summer. Naturally, I pit them one against the other; but other than the oversized crest and excessive chrome, I never considered them to be real Caddies -- not what the brand's image has always been about.
Throughout my teens, my uncle was the owner of a number of Fleetwoods from the late '70s to the late '80s including one white 1987 stretch limo. I was driven in (and eventually drove) a few of them, and to me these have Cadillac written all over them -- which they in fact do.
Today, although the giant Fleetwoods are gone, my uncle is the proud owner of a stunning 1967 Deville convertible which I occasionally get to hover about town in.
To my now 69-year-old uncle, these big, luxurious land-yachts were (and still remain) the brand's core foundation and identity. And I tend to agree. This is why GM's luxury make could have changed its name in the last 24 months and no one would have questioned the move.
Cadillac, in the 21st Century, is in the process of doing a complete about-face, one that is in part the result of numerous bad decisions from the '80s, '90s and early 2000s.
From a once forgettable, laughable wannabe alternative to the Germans and Japanese, Cadillac has practically come out of nowhere and may very well regain its title as one of the great brands, if only under a very different light.
Those at the head of Cadillac have managed to find a niche; or better yet and easier to do, their own place in the luxury car market. I think that for too long Cadillac tried to regain their lost laurels, and failed every time.
This time around, they're marching to the beat of their own drum and it's working. The ATS, the new
CTS
and XTS are all "in-betweeners," meaning they rival some German products without taking them head-on. This, my friends, is a brilliant strategy.
I think the next step is to give each car an identity and not just a name. Despite my strong like for the ATS, I think it needs a more vocal presence. The 2.0T was too quiet, subdued, boring even to get excited about. Both it and the XTS could use a little more vim in the form of a V-package that could add some pizzazz.
The bottom line here is that Cadillac is back, and I'm glad I got and will get to sample more of these great new products.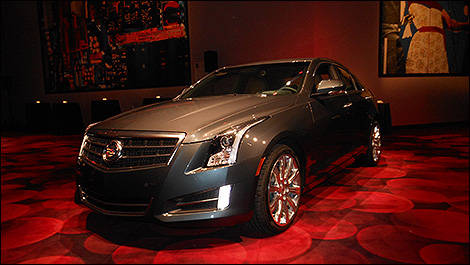 Photo: Kevin Corrigan