The Dodge brand has an image that's somewhat unique in the industry, its adrenaline-inducing American muscle cars becoming an increasingly rare species in the automotive eco-system. It's clear, however, that the current way of doing things is on borrowed time. The combustion engine's hegemony is coming to an end, and electrification in its different forms is going to take up an ever-larger place in the vehicles we drive around in.
We'd already heard from FCA (Fiat Chrysler Automobiles) that it plans to step ahead efforts in the domain of electrification in the next 12 to 18 months. And Dodge is part of its plan.
"I think the absolute future is electrification of these cars. That's not necessarily bad. It could be [battery electric], it could be [plug-in hybrid], it could be regular hybrid, could be e-axles, any one of the number of electric technologies. But I am a firm believer that electrification will be the key to high performance in the future."

- Tim Kuniskis, head of passenger cars for FCA, speaking to Automotive News
This came immediately after the reveal last week of the Widebody versions of the new Dodge Charger, and it confirms earlier comments by sources who said that that the Challenger Hellcat was going to incorporate some form of electric technology.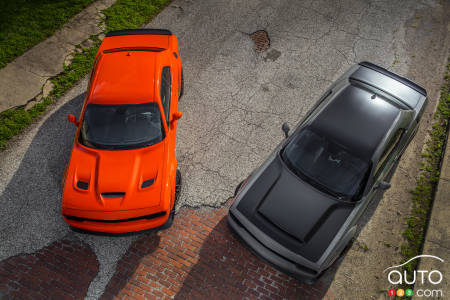 For Dodge, as for all automakers, the catch is dealing with the costs related to the new technologies. Hence the recent negotiations with French auto group Renault regarding a possible merger.
Kuniskis added that "We don't have the price points of the batteries down to a place where, quite honestly, it's a mainstream proposition". At the same time, he acknowledged that the next step up in terms of performance would require the use hybrid powertrains, citing as exampled the Porsche 918 Spyder, Acura NSX and Ferrari LaFerrari.
The executive also took pains to mention that although the addition of electric power would enhance performance, it would still be a challenge to get consumers to accept the new reality of electrification. In his view, that switch would be flipped once the new powertrains are affordable, maybe even more so than traditional combustion-engine ones.
What this adds up to is, don't expect the current-generation Dodge Charger and Challenger to be produced as hybrids. But the next generation of each model certainly will, in some shape or form. Unofficial word is that it's already being worked on.