Volkswagen today unveiled its latest ground-breaking concept car at the 2018 Geneva International Motor Show. The fully autonomous I.D. VIZZION is the new flagship VW sedan for the company as it envisions the future of mobility, technology and electric-driven performance.
The growing I.D. family of vehicles from the German automaker is part of its ambitious plan to build roughly one million all-electric vehicles per year by 2025. The I.D. compact car and the I.D. CROZZ SUV are expected to be market-ready by 2020, while the larger I.D. BUZZ next-generation minibus will follow in 2022.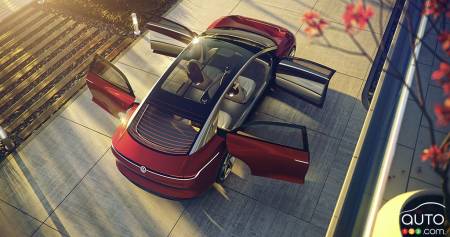 The I.D. VIZZION will be the new flagship sedan for VW when it comes to market in 2022, one conceived from top to bottom for the new era of electric and autonomous mobility. It takes the innovative concepts and technologies developed in the first I.D. models and moulds them to the large sedan format. The company will equip the car with conventional controls when it first hits the market, but the I.D. VIZZION will have nearly-full autonomous driving capabilities and be able to learn and adapt thanks to A.I. technologies. The new vehicle architecture Volkswagen has developed allows for creating a more spacious cabin environment than most current premium large sedans. Drivers will as well be able to send commands via hand gestures, voice instructions and mixed-reality eyewear (HoloLens); via this augmented-reality experience drivers make use of virtual control elements and displays projected within the cabin.
"… the I.D. VIZZION demonstrates how the All-New Electric Architecture gives us a completely new type of freedom in designing the vehicle interior and exterior."

- Dr. Herbert Diess, Chairman of the Volkswagen Brand Board of Management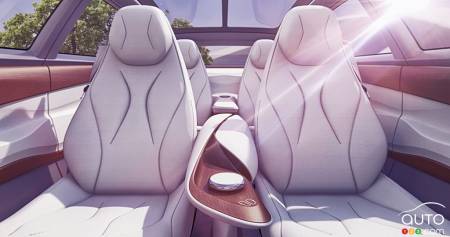 The I.D. VIZZION sedan concept makes use of two electric motors and an all-wheel drive system with an output of 225 kW, and its range is said to be close to 665 km. The All-New Electric Architecture also means that this drive system, the battery system and the dimensions of the vehicle are scalable, allowing Volkswagen to adapt the technology to different vehicle categories.