Jeep today presented a video showing its autonomous driving technology conceived for off-roading. This technology seems to go against the very concept of fun-oriented off-road driving, but it can serve beginners and experts alike, says Jeep.
Jeep has already stated that this technology could be available as early as 2030.
Recall that the company is planning four new electric models for North America by 2025, two of which have already been presented in concept form: the Recon and the Wagoneer S.
In terms of technology, what the company is working on is conceived specifically for the needs of its vehicles: an autonomous off-road driving system.
In the new video, two Grand Cherokee 4xe models can be seen navigating various trails in Moab, Utah.
At first glance, the development of this technology runs counter to the very concept of off-road driving, which is intended to be a fun exercise for those who engage in it. However, there are other ways of looking at it, either as a way of helping those less accustomed to off-roading, or as a way of providing new experiences for the more experienced. Jeep claims that this technology will be useful to experts and novices alike, enabling more people around the world to enjoy the hobby.
According to Christian Meunier, head of the Jeep brand, the technology "will have real-life applications on and off the trail in a wide range of driving conditions."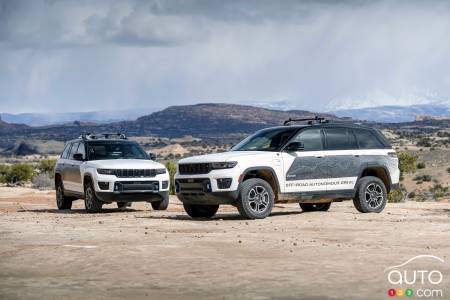 Nearly two years ago, the company said it believed this technology and its functionalities could be possible by 2030. It even suggested that the vehicle could follow its own path while its occupants head off on their own way. Imagine taking a hike along a trail, with the vehicle waiting for you at the end of the route.
We're still a long way from that, but every advance in the field is a step forward in technology, which will one day become the norm.
As long as humans are allowed to take control when desired, and in position to take control when needed...