Mini was an active player at the Munich Motor Show just ended, presenting the third-generation Countryman SUV, redesigned and enlarged for the occasion, as well as the new version of the electric Cooper.
Then, the company announced new investments in England for the construction of its electric models.
There might be more still to come from Mini: At the Munich Motor Show, brand boss Stefanie Wurst hinted to Wheels that a minivan offering more than five seats is a possibility, evoking in passing the Urbanaut concept presented in 2020.
"Urbanaut is definitely an interesting concept," said Wurst. "Urbanaut wasn't very specific on seat capacity but it had a lounge area so instead of doing that you could also imagine a bigger seating capacity."
See also: Mini Urbanaut: A Box Containing the Interior of the Future?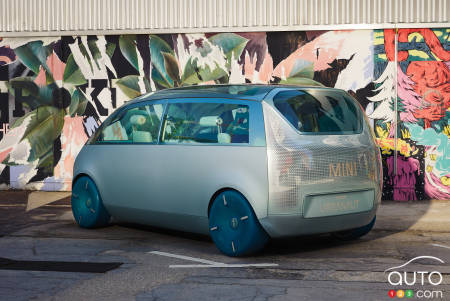 This isn't the first time Mini has hinted at a vehicle bigger than the Countryman. In 2020, the automaker said it was working on a larger SUV. Wurst says she would rather introduce a new type of vehicle than simply increase the size of some that already exist.
"I personally think we've reached a good size, yet I think when we launch a larger Mini or an extended Countryman, I don't know if this is still a Mini," she added. "I would rather go on a new innovative concept that is more unexpected and surprising because Mini is about doing things a different way."
We'll have to see how serious the automaker is about this idea, but one look at the Urbanaut concept suggests the company could make a splash with a spacious compact vehicle with seductive lines and more than five seats, especially in all-electric configuration.
We can also imagine some automakers will want to offer a rival product to the promising and much-anticipated Volkswagen ID. Buzz van.