• Nissan will unveil an electric concept on February 1st at 8 pm.
• The prototype might well be an evolution of the Max-Out concept shown in late 2021.
• Nissan will invest $17.7 billion by 2030 to electrify half of its and Infiniti's lineups.
Via a YouTube teaser, Nissan has let it be known it will unveil an electric concept car this Wednesday, February 1, at 8 pm, EST.
There's no confirmation regarding what model we can expect, which opens the door to free-ranging speculation. That said, the consensus is that it will be a physical version of the Max-Out, a design study unveiled virtually in late 2021 by the Japanese automaker. To wit, Nissan is encouraging people to watch on Wednesday to "see what happens when the virtual becomes physical".
The image just shared by Nissan shows us a patch of the back of a vehicle that looks all the world like the Max-Out. Back in 2021, that design study was shown as part of the company's introduction of its Ambition 2030 plan. The plan calls for an investment of $17.7 billion USD over the next five years to develop 23 new electrified models, including 15 pure-electrics.
Nissan wants its and Infiniti's lineup to be 50 percent electrified worldwide by 2030, with different targets for different markets. Europe should reach 75 percent electrified sales in the next five years, while the target for the U.S. and China is 40 percent.
Browse cars for sale available near you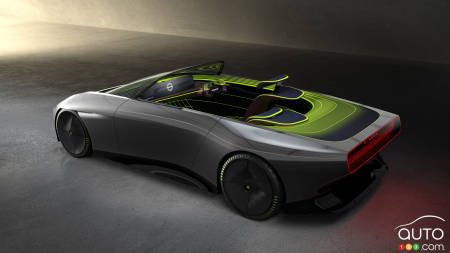 The Max-Out concept is a convertible that aims to "offer a new driving experience". The promise is that the model will offer dynamic handling with limited roll and optimized comfort. The interior features a dashboard with a full-width screen, as well as a passenger seat that can be stowed to increase cargo space. The vehicle's lightweight construction was also touted at its presentation thanks to an "innovative integration of the body, chassis and battery". The latter were solid-state batteries.
What does this mean for the model being presented on Wednesday? In December, Nismo boss Takao Katagiri told Autocar that Nissan was developing a new sports car for North America and Europe. Will we finally get the next generation of the GT-R, which has been on the market without much change for 15 years?
We'll have a better idea on Wednesday night, once the model is presented. Be sure we won't miss it.