The Consumer Electronics Show (CES) in Las Vegas has become a can't-miss event for players large and small involved in the development of new technologies. This year, Panasonic is making its mark in the automotive domain with a series of innovations and partnerships.
In collaboration with Google, the company is presenting an improved version of its Panasonic Skip Generation infotainment platform, first introduced at CES 2017. Now operating on the Android 8.1 Oreo system, the new platform integrates Google Assistant as well as Google Maps and allows users to control numerous vehicle functions (navigation, climate control, streaming audio, etc.) in a more intuitive interface, and it can be accessed even without the use of a smartphone.
Panasonic has partnered with another giant, Amazon, to offer a next-generation infotainment system with voice control via Alexa. Users will have access to certain Alexa functionalities natively, without requiring an internet connection.
The new Land Rover Range Rover Velar's InControl Touch Pro Duo system with dual 10-inch screens, powered by Panasonic, is also on display at CES 2018. The highly advanced, intuitive and adaptable system is a natural match for the minimalist decor of the luxury SUV, featuring for example surfaces that remain invisible until functions are lit up when needed. The Velar also makes use of Panasonic-developed Nanoe air purification technology, which eliminates odours and unwanted air particles within the cabin.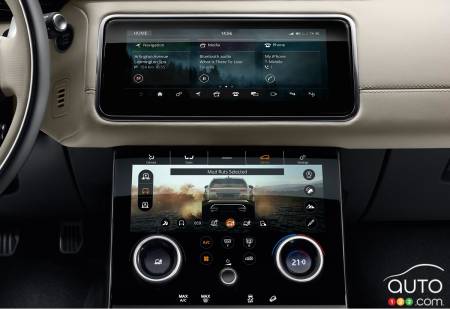 Panasonic has also developed a scalable electric-powertrain platform that automakers will be able to use for their small electric cars. This platform can even be used for bicycles and other personal-mobility devices operating on electrical power.

Lastly, Panasonic is exhibiting at CES 2018 a trio of next-generation cockpits focused on Levels 3, 4 and 5 autonomous driving. With car-sharing services set to continue to gain in popularity in the coming years, eventually doing away with the need for drivers altogether, the company has designed interior spaces able to offer each passenger a personalized experience.