Technical
All of the GM minivans of this generation sported the same engine. It was an OHV 3.4L V6. Output was rated at 185 hp and 210 lb/ft of torque for
1997 and 1998. In 1999, both numbers rose by five. The only available transmission was a 4-speed automatic. In 2002, GM's Versatrak AWD system was added as an option. Along with it came 4-wheel disc brakes and a fully independent suspension. Regular FWD van made due with drums and a semi-independent suspension at the rear.
On the road
The 3.4L V6 was not an explosive engine. It was torquey and responsive enough at low rpms to make the driving experience interesting. Its principal attribute was its impressively low fuel consumption when compared to any other minivan. The autobox was quite a smooth operator however it could easily get confused and hesitant if rushed.
The ride of the minivans was best characterised by the word soft. This means that a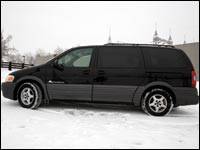 t reasonable speeds, the occupants were nearly unbothered by potholes and road imperfections. This also meant that body-roll was very present but not an issue for the average driver. My tester's long wheelbase contributed to the cozy drive.
These vehicles were by no means meant to be driven hard. Because of this, it was easy to forgive the lack of on-center feel of the steering. Generally speaking, the brakes performed as expected although my Montana's pedal was very spongy.
Safety
The Montana has standard dual front air bags, available ABS brakes and three-point seatbelts. The NHTSA (National Highway Traffic Safety Administration) awarded the car 4 out of 5 stars (a good result) for the driver and 3 out of 5 stars (an average result) for the passenger in frontal impacts from 1997 to 2001. As of 2002, the passenger side frontal rating was increased to 4 out of 5 stars. The IIHS (Insurance Institute for Highway Safety) rated the Montana as "Poor" in its category.
Conclusion
From 1997 to 1999, the GM minivans had a number of reliability issues. One of the most common was transmission failures and intake manifold gasket leaks. As of 2000, the numbers of complaints on these vans diminished. This was sufficient to make them a better choice than both of its North American counterparts.
As a used minivan purchase, the Montana is interesting because of its low resale value and high level of features. The key is to find one from 2002 to 2004. They have a 5 year/ 100 000 km powertain warranty and are the best years of this generation of GM minivans. The buyer will benefit from a low purchase price but will also suffer high depreciation if resold shortly after. The ideal situation, if possible, is to keep and maintain it for 3 to 4 years.