It's no secret that the recent road has been bumpy indeed for Infiniti. For the past few years, there has been a sense of stagnation when looking at Nissan's luxury banner, which never bodes well for a prestige brand.
New products have been rare, sales have been down and encouraging news about the future has been slow in coming. Some have gone so far as to wonder about the relevance of keeping the brand going at all.
In 2018, Infiniti did announce that starting in 2021, it would begin its electric shift and that all of its new products would be electrified in some form or other.
The new 2022 QX60, which was actually introduced in the latter part of 2021, doesn't fall into that plan, of course.
And yet, Infiniti has actually been working on that electric shift, as witnessed by the presentation of a couple of concepts, the Q Inspiration in 2018 and the QX Inspiration in 2019. Then, last December, the brand released a video giving us a glimpse of its vision for 2030. The video indicated that Infiniti wants to offer customers wide-ranging solutions, so that they can choose the type of powertrain that best suits them. At the end of the video, three apparently electric concepts could be seen.
The slogan is now Infiniti Ambition 2030. So, yes, there's action to back up the big words, but we can agree 2030 is a long way off compared to the 2021 target originally cited.
Shopicar.com, 100% online, shop for your next car, buy online and get it delivered to you anywhere in Quebec!
But that's for another day. This is now, and in the here and now Infiniti still has to sell vehicles. Like the QX60 SUV, which gets an overdue revision – the first, really, since its introduction back in 2013.
See also: 2022 Infiniti QX60 First Drive: The Much-Needed Update Gives Results
Here are eight things that caught our attention on test driving the new QX60.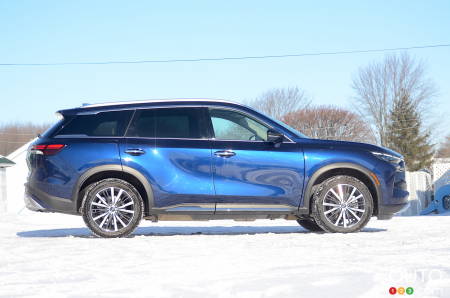 1 - Styling
Opinions on styling are always tricky, because essentially, beauty's in the eye of the beholder and all that. That said, it's also true that in respect to most vehicles' design a sort of consensus does end up forming. Generally, vehicles either please most folks, else they leave them indifferent or they displease them.
In the case of the QX60, the reaction has been generally positive, though we have to say the new version doesn't display any radical changes. Its design has evolved and is definitely more modern, but there's no transformational change here. For Infiniti, this may have been the right move, because with sales weakened (since 2019 especially), introducing a product with more-polarizing styling would have been risky.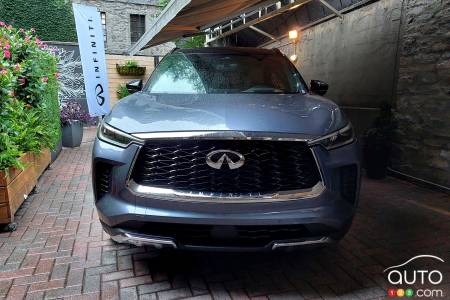 2 - The identity
The SUV's somewhat anonymous look is directly related to the identity that Infiniti projects. What identity is that, you might ask? Well exactly. The problem for Infiniti is that it's in search of one. No matter how many people try to say otherwise, people's reaction to an Infiniti product is not the same as that of a Mercedes-Benz, Audi, Cadillac, Lexus or BMW, for example. Even the new image of Lincoln SUVs is stronger.
Particularly for a premium auto brand, intangibles like the identity are all the more important. It's not enough to offer good-quality, nice-looking models – they need that little je-ne-sais-quoi that makes people fall in love with them.
And it's hard to argue that Infiniti possesses that quality right now.