The inexpensive alternative?
At this stage in the game, just about everyone knows that Chrysler put the minivan on the map in the early 1980s. Already by 1990, the styling of this type of vehicle was getting bland and uninspired. That year, General Motors launched an attack. In no time, we could see Chevrolet Lumina APVs, Oldsmobile Silhouettes and Pontiac Trans Sports crawling on every city street.
Their design was bold and innovative and that was basically it. Sales were strong but the competition was growing rapidly. The new minivans were getting bigger and more powerful. As 1997 rolled around, General Motors countered the mounting assault with larger, better equipped people haulers featuring a new engine. As the years went by, power ratings increased and an AWD system was added to remain competitive.
Styling
The exterior styling of these minivans was nothing shor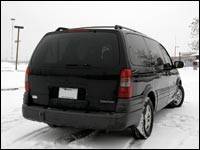 t of your basic box-on-wheels with a mildly swooping nose. The Montana was the most distinctive of the bunch. Good or bad, the extensive use of grey side body-cladding and more prominent front and rear bumpers separated it from the plain Silhouette and Venture. The remainder of the body panels; door handles, fenders and hatch were identical. Although not a fashion statement, these vehicles were more subtle than the Ford Windstar yet not as attractive as the Dodge Caravan. 1998 was the first year that an extended version was offered.
The tested black coloured Montana suffered from the well documented paint defects on the hood and partially on the "A" pillars. This was particularly common on the 1997-99 models but not unseen on the later vans. Some rust was also present at the top of the same pillars and, according to a GM dealer, could be the cause of the vehicle's cracked windshield.
The cabin of the Montana was very simple with a functional and useful dash l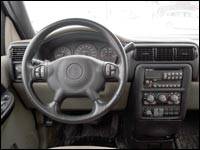 ayout. Plastic panel assembly was fair throughout the minivan's large interior. The quality of the materials was somewhat less appealing. Much of it was hard and inexpensive and was the source of a number of rattles. I must add that although there were some crunching and crackling noises in the 2002, the last all-new 2005 GM van I tested had a larger myriad of sounds common from the interior trim.
The front and second row seats were very soft and remained comfortable on a long drive. Some of the many storage bins were difficult to reach from the driver's and passenger's position. If you used them, it was wise not to store items that you would use on a regular basis.