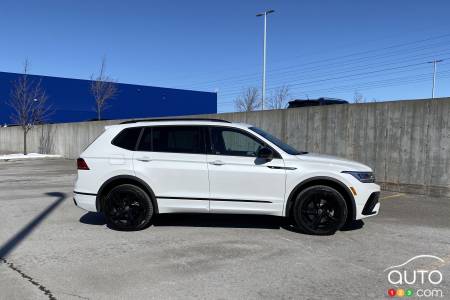 • Auto123 reviews the 2023 Volkswagen Tiguan Comfortline R-Line. Here's what you need to know.
The Volkswagen Tiguan needs no introduction. It's a popular compact SUV in Canada and has been since it first appeared on the market in 2009, even as it has grown considerable in size over the years.
In case you're wondering, the Tiguan takes its name from a combination of 'tiger' and 'iguana'. For us, since the model got its first big refont in 2018, it became more Iguana than Tiger. Its engine lacked punch and its wasn't much of a pleasure to drive. Positioned in a highly competitive market, it did find success in part by offering a slightly firmer ride and, above all, an optional third row.
What's new for the 2023 Volkswagen Tiguan?
After the overhaul given the Tiguan for 2022, there are no major changes for the 2023 model-year. New are 19-inch wheels for the Comfortline R-Line version and 20-inch wheels for the Highline in R-Line trim.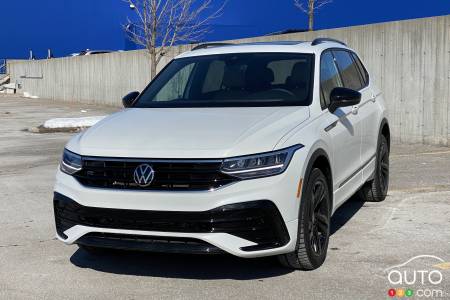 Exterior of the 2023 Volkswagen Tiguan: 7.5/10
The 2023 Tiguan features a modernized, dynamic exterior design, with a reworked grille, new, slimmer LED headlamps and a more sculpted hood since the 2022 makeover. The alloy wheels were also redesigned, and the overall silhouette of the vehicle slightly modified. We like the look of the front end, but especially in Highline trim, which gets a nicer front light signature.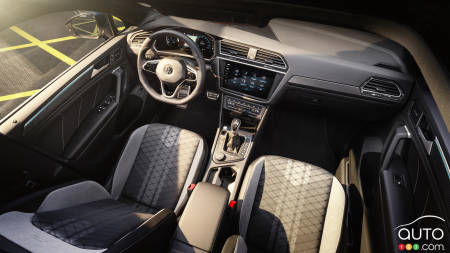 Interior of the 2023 Volkswagen Tiguan: 7/10
The Tiguan offers a spacious, comfortable interior. Although the aesthetics are classically Volkswagen, the cabin is functional. The front seats are heated and offer excellent lumbar support, while the rear bench can comfortably accommodate three adults. However, legroom in the second row, which is configurable 40-20-40, may be limited if you opt for the third-row option. The third row is really appropriate only for emergency lifts or to accommodate small children.
The digital instrument panel is available in two sizes: 8 inches in the base model, and 10.25 inches in the higher versions. The screens are clear and easy to use, but the larger one is superfluous in our opinion, not worth the extra cost to get a bunch of non-essential info.
The multimedia system is available in 8-inch format on all versions except the Trendline, the base version, which settles for a 6.5-inch screen. The system is easy to use, and Apple CarPlay and Android Auto connect wirelessly except on the base version.
While the base version has fabric seats, all other versions have imitation leather for their seating. The most expensive trim, Highline R-Line, has the front and rear seat centre strips in perforated "Vienna" leather.
The 7-seat Tiguan offers a measly 340 litres behind the third row, but that grows to 934 litres with those kiddie seats tucked away, and to 1,860 litres with the second row folded down. The 5-seat SUV gives you 1,065 litres with all seats in place, and 2,081 litres behind the front row.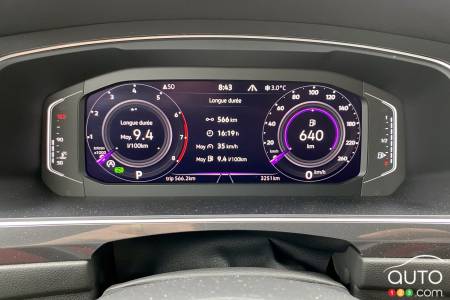 Safety and technology in the 2023 Volkswagen Tiguan: 7.5/10
The 2023 Tiguan is equipped with an array of advanced safety features, including automatic emergency braking, lane departure warning and a blind spot monitor. For Canadian winters, its 4-wheel-drive system - 4Motions - is really effective, and it even has hill descent control.
Standard safety features are plentiful, but some of the more advanced functions are only available on higher versions.
What's more, like many other manufacturers, VW offers the Car-Net application for all versions. Features include navigation, vehicle status information, remote climate control, vehicle location and safety monitoring. Car-Net can also be used to set up speed alerts, geographical no-go zones or driving zones, and to share the vehicle's location with others.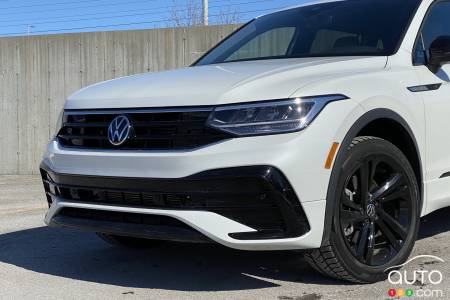 Driving the 2023 Volkswagen Tiguan: 6/10
It has to be said, the 2023 Tiguan comes from some way back. During our tests of the 2022 model, we found the Tiguan very limited in terms of its powertrain. When overtaking or entering the freeway, acceleration was not always reassuring.
Fortunately, VW has made adjustments for 2023, and although engine power has not been increased (still 184 hp and 221 lb-ft of torque), the 8-speed transnmission and engine are now better tuned. As a result, low-speed acceleration is a little livelier and, above all, much more reassuring. At highway speeds, nothing has changed, but the vehicle is still slow to pick up speed. In that respect, we're still in Iguana territory...
Fuel consumption of the 2023 Volkswagen Tiguan: 7/10
During our week, we consistently were able to dip below 8.0L/100 km. After 550 km, we finished with a fuel consumption reading of 9.4L/100 km, mainly in mixed driving conditions. Smack dab on Volkswagen's official figure.
That's still a bit high compared with the competition, but with many distances completed at low speed and very often under 20 km, it's understandable. We forgive you Iguana.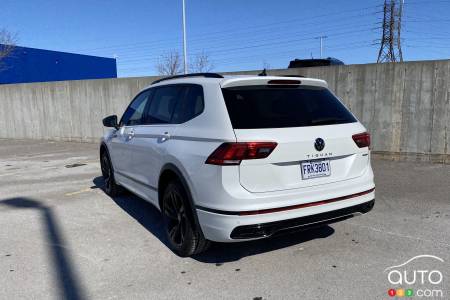 The final word
Those improvements to the powertrain make the 2023 Volkswagen Tiguan an option to be considered in its class. Although it's in a highly competitive segment, it has the merit of offering German driving and technology at a competitive price.
The base Trendline model starts at $36,632, and the Comfortline at $40,632. Our test model, the Comfortline R-Line, retails at $43,632 and in return it delivers a sportier, more adventurous feel. The top of the range, the Highline R-Line costs $47,132; it offers a lot, but that's starting to get very expensive for a Tiguan.
Here are a few of your questions about the 2023 Volkswagen Tiguan
Which Tiguan offers the best value for money?
We'd go for the Comfortline R-Line version we tested. The price versus equipment ratio seems fair to us, and not only does this variant give the model a different style.
Strong points
R-Line package
Space and comfort
Third row of seats (option)
Fuel economy
Weak points
Digital cluster (larger screen)
Lack of power under the hood
Rear design is timid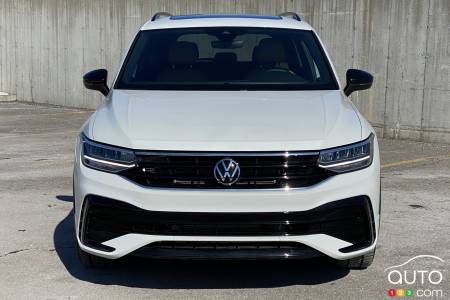 Competitors of the 2023 Volkswagen Tiguan
Chevrolet Equinox (MSRP: $30,347)
Ford Escape ($35,044)
GMC Terrain ($34,447)
Honda CR-V ($36,355)
Hyundai Tucson ($31,138)
Kia Sportage ($31,459)
Mazda CX-5 ($31,250)
Mitsubishi Outlander ($32,698)
Nissan Rogue ($33,008)
Subaru Forester ($33,283)
Toyota RAV4 ($35,534)
These vehicles offer similar features in terms of interior space, technology, safety and performance, and can be popular alternatives for consumers looking for a compact SUV. If you're looking for a third row, only the Mitsubishi offers this configuration as standard. The Tiguan also offers it, but for an extra $800.
Test conditions
Weather conditions: Winter temperatures
Road type: Suburban, generally
Speed: 50 to 70 km/h, generally
Test duration: One week for 550 km
Specifications sheet of 2023 Volkswagen Tiguan Trendline
Specifications sheet of 2023 Volkswagen Tiguan Comfortline
Specifications sheet of 2023 Volkswagen Tiguan Comfortline R-Line Black Edition
Specifications sheet of 2023 Volkswagen Tiguan 2023 Highline R-Line