INFINITI is previewing its Project Black S performance concept ahead of its official reveal at the Paris Motor Show later this week. Here are details and a large photo gallery of this sleek Q60-inspired coupe.
Engineering test-bed
This is the term INFINITI is using to define the coupe, which is being developed in tandem with the Renault Sport F1 team. A defining feature of the model, in addition to its aggressive contours and gun-metal-grey colour scheme, is the dual-hybrid powertrain that sits under the hood – the first of its kind in the world, says INFINITI. Derived from Formula One technology, it's engineered specifically for the road to create a potential new electricity-based performance flagship for the brand.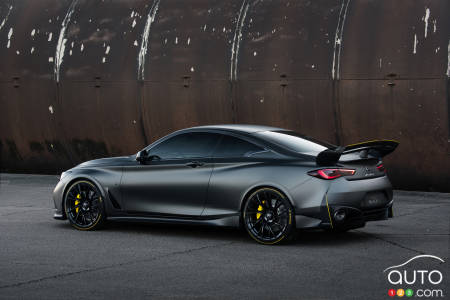 We had already seen an early version of the concept in 2017, after it was unveiled at the Geneva auto show. The evolved new edition features a 3.0L twin-turbo V6 developing 563 hp, backed by an energy recovery system. This system works in two ways, first by recovering braking heat energy and second by the heat energy produced by the exhaust system when accelerating. INFINITI promises a 0-100 km/h acceleration time of under 4 seconds.