Among of the most highly prized awards in the industry are the ones handed out every year by the NACTOY (North American Car of the Year) organization. By tradition, the big winners in each of the categories (Car, Utility and Truck of the Year) are announced in January at the Detroit auto show. With that event moving in 2020 to the month of June, however, it remains to be seen what will happen with the NACTOY schedule.
As for the finalists in each category, they are named in a ceremony at the Los Angeles Auto Show in November.
To make it to that step, vehicles will have passed through a number of steps with the jury members winnowing down their choices at each one. At the outset, 46 models were declared eligible, and this week the organization narrowed that total down to 29 models that have been shortlisted. This new list includes 12 cars, 12 SUVs and 5 trucks.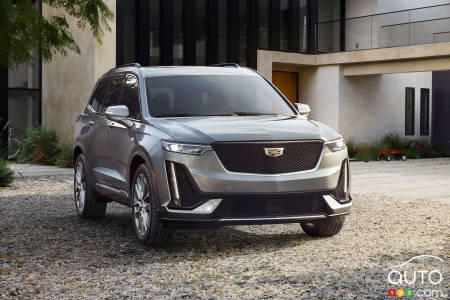 Each vehicle is judged on its innovativeness, design, performance capabilities, technologies, the level of driver satisfaction it delivers and its market value. To be eligible, a model must be new or have undergone a substantial revision since the year before. The model must also be available for purchase before the end of the current year. Lastly, the vehicle must have sold a certain number of units, thus precluding all the niche products made by exotic-car makers.
Last year's Car of the Year was the Genesis G70, while the Hyundai Kona was chosen Utility of the Year. In the Truck of the Year category, the king of the castle was the Ram 1500.
Here then are the new vehicle models shortlisted for the 2020 NACTOY Car, Utility and Truck of the Year awards:
Cars
BMW 3 Series - our review of the 2019 3 Series - photo gallery of the 2020 3 Series
Cadillac CT5 - photo gallery of the 2020 CT5
Chevrolet Corvette Stingray - photo gallery of the 2020 Corvette
Hyundai Sonata - photos de la Sonata 2020
Kia Soul - our review of the 2020 Soul - photo gallery of the 2020 Soul
Mazda3 - our review of the 2019 Mazda3 - photo gallery of the 2019 Mazda3
Mercedes-Benz A-Class
Polestar 1 - photo gallery of the Polestar 1
Porsche 911 - photo gallery of the 2020 911
Subaru Legacy - our review of the 2019 Legacy
Toyota Supra - our review of the 2020 Supra - photo gallery of the 2020 Supra
Volkswagen Arteon - our review of the 2019 Arteon - photo gallery of the 2019 Arteon
Utility models
Audi e-tron - photo gallery of the 2019 e-tron
Cadillac XT6 - our review of the 2020 XT6 - photo gallery of the 2020 XT6
Chevrolet Blazer - our review of the 2019 Blazer - photo gallery of the 2019 Blazer
Ford Explorer - our review of the 2020 Explorer - photo gallery of the 2020 Explorer
Ford Escape - our review of the 2020 Escape - photo gallery of the 2020 Escape
Honda Passport - our review of the 2019 Passport - photo gallery of the 2019 Passport
Hyundai Palisade - our review of the 2020 Palisade - photo gallery of the 2020 Palisade
Lincoln Aviator - photo gallery of the 2020 Aviator
Lincoln Corsair - photo gallery of the 2020 Corsair
Subaru Outback - our review of the 2019 Outback - photo gallery of the 2020 Outback
Volvo V60 Cross Country - our review of the 2020 V60 CC - photo gallery of the 2020 V60 CC
Trucks
Chevrolet Silverado HD - our review of the 2020 Silverado HD - photo gallery of the 2020 Silverado HD
Ford Ranger - our review of the 2019 Ranger - photo gallery of the 2019 Ranger
GMC Sierra HD - our review of the 2020 Sierra HD AT4 - photo gallery of the 2020 Sierra 2500 HD
Jeep Gladiator - our review of the 2020 Gladiator - photo gallery of the 2020 Gladiator
Ram HD - our review of the 2019 Ram HD - photo gallery of the 2019 Ram HD